Seagate FreeAgent DockStar network adapter unveiled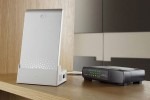 Backing up your data and media from your computer to an external drive is very important in case of a crash, but many users also want to be able to access that content from anywhere they may be. Seagate has announced a new device called the FreeAgent DockStar that connects the external storage drive to the Internet making the data on the drive accessible from anywhere you can get online.
The DockStar network adapter gives access to the data on the FreeAgent Go external hard drive from anywhere outside or inside the home and allows the user to selectively choose the files that are shared online. Seagate also offers an iPhone app to allow access to the drive.
The tech behind the DockStar is from Cloud Engines' Pogoplug service and uses an intuitive web-based interface to offer access to the data on the drive. Users of the dock can also place linked pictures and video onto MySpace, Facebook, and Twitter from the DockStar. The DockStar adapter is available now through Seagate for $99.99 and the first year of the Pogoplug service is included. After the first year, the service costs $29.99 a year for unlimited storage and access.