Seagate BlackArmor PS110 USB 3.0 hard-drive plus interface kit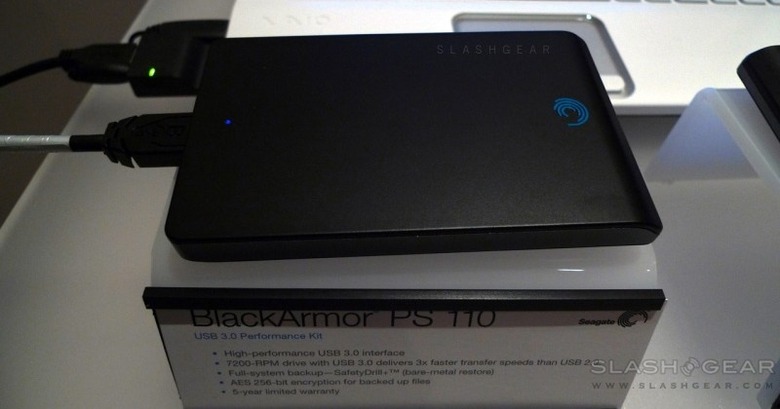 Seagate have become the latest hard-drive manufacturer to push out a USB 3.0 external HDD, in the shape of the Seagate BlackArmor PS110, and since they know that most users probably won't have a USB 3.0 port on their existing notebook they've thrown in a "portable external hard drive performance kit" too.  The kit includes the 500GB 7,200rpm PS110 external drive along with a PC Express card to add the requisite USB 3.0 port; once that's slotted into place you can expect sustained data transfer speeds of 100MB/s.
That's three times the speed of a regular USB 2.0 drive, making the BlackArmor PS110 ideal for high-definition video transfers, hefty backups and more.  Since USB 3.0 is backward compatible with the older connector, you won't be left high and dry if you need to hook the drive up to a non-3.0 computer; you may die of boredom, however.
Seagate are also bundling the Acronis business-grade backup suite, automated full-system backup and SafetyDrill+ "bare metal recovery" software with the 12.5mm thick PS110 drive.  The Seagate BlackArmor PS110 kit is available now, priced at $179.99.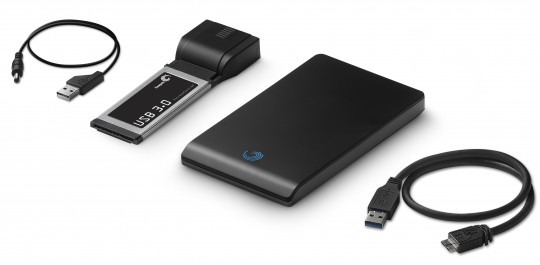 Press Release:
SEAGATE SUPER SPEEDS TRANSFER RATES WITH USB 3.0 EXTERNAL PORTABLE HARD DRIVE

Portable 7200RPM, 2.5-inch Hard Drive Delivers Transfer Speeds Up to

Three Times Faster than USB 2.0

LAS VEGAS, NV – January 5, 2010 – Today at the Consumer Electronics Show

in Las Vegas, Seagate (NASDAQ: STX), the

worldwide leader in hard drives and storage solutions, unveiled the

BlackArmor(r) PS110 USB 3.0 portable external hard drive performance kit

for notebook computers. Demonstrating its industry

leadership in delivering advanced and easy-to-use storage solutions,

this all-in-one USB 3.0 toolkit packages a 500GB 7200RPM 2.5-inch

portable hard drive, power cable and PC express card, to deliver speeds

up to three times faster than its USB 2.0 predecessor, making it one of

the fastest portable hard drives

available.

"As people continue to amass vast libraries of high-definition photos,

movies, and music, the storage needs of US households are forecast to

grow more than ten times between 2009 and 2013, and the average digital

media storage requirements will exceed a terabyte by 2013[1]", said Kurt

Schreff, vice president and principle analyst of Parks Associates.

To address these growing storage needs, the BlackArmor PS110 USB 3.0

toolkit

makes it easier and less time-consuming to store and

share large amounts of rich digital content. This new super speed USB

3.0 interface allows easy transfer of large files to and from the

external drive at sustained transfer rates of 100MB/s, which is three

times faster than current USB 2.0 devices. The familiar scenario of

waiting for large files to transfer will now be a thing of the past.

With the BlackArmor PS 110 USB 3.0 drive, a 25GB HD movie

can be transferred in just four minutes versus the 14

minutes it would take using a traditional USB 2.0 drive[2]. Simply plug

the PC Adapter card into a notebook, connect one end of the included

adapter cord to the PC card, the other end to the BlackArmor PS110

drive, and it is set.

"The growing presence of large multimedia files in the home means that

connectivity and speed is a top concern for a satisfactory experience,"

said Dave Mosley, Seagate executive vice president, Sales, Marketing and

Product Line Management. "The delivery of USB 3.0 further underscores

our commitment to giving people an efficient way to store, access and

share their digital creations."

Coupling Performance with Protection

Considering the precious, personal content and portability of today's

external hard drives, it is important for people to give thought to

protecting the data on the drive. Seagate's USB 3.0 portable hard drive

performance kit couples all the safety and security of the existing

BlackArmor PS 110 portable hard drive

with the increased performance of USB 3.0 in an

exceptionally slim, 12.5mm form factor. Each drive ships with the

Acronis business-grade backup suite, automated full-system backup and

SafetyDrill+(tm) software, a bare metal recovery feature, is Windows XP,

Windows Vista and Windows 7 compatible and covered by the an

industry-leading, 5 year limited warranty.

"To date, the USB interface is the most prevalent interface and will

continue to dominate as the interface of choice through 2011," said Liz

Conner, lead research analyst of IDC's Personal Storage Research. "This

will be re-enforced with the introduction of USB 3.0, which provides

significantly increased bandwidth to better handle the growing number of

large multimedia files being stored to external hard drives."

The BlackArmor PS110 USB 3.0 performance kit

contains everything you need to upgrade your laptop to

take advantage of USB 3.0 speeds. The new BlackArmor PS 110 USB 3.0

Performance kit

is backwards compatible with USB 2.0 and can be

purchased immediately from Seagate.com

for a manufacturer's suggested retail price of $179.99.