Sea of Thieves Xbox One S 1TB launch bundle revealed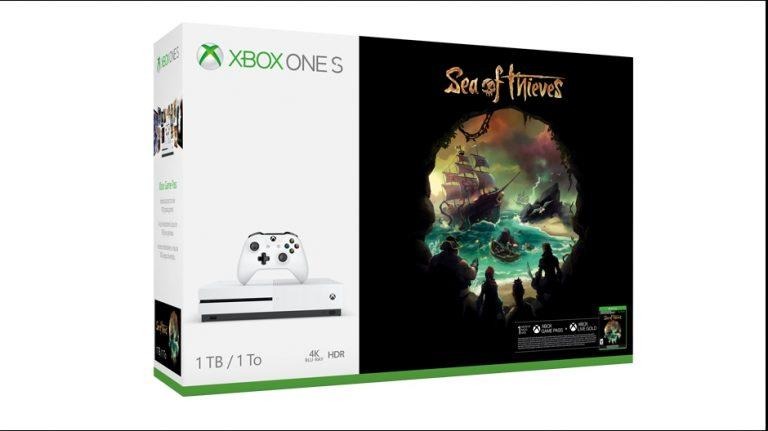 Sea of Thieves is the biggest Xbox One release we've had in a while. Not only is it the latest game from famed developer Rare, but it's also a highly anticipated Xbox One exclusive at a time where PlayStation 4 seems to be dominating that particular aspect of the console wars. It makes sense, then, that such as a big game for Microsoft would get its own launch day console bundle.
Today Microsoft revealed a new Xbox One S bundle featuring Sea of Thieves. The bundle features a 1TB Xbox One S, which sadly doesn't have a special Sea of Thieves theme to it – instead, this is just the standard white console. We're not even getting the limited edition Sea of Thieves controller with this bundle, so temper your expectations if you were hoping for Microsoft to pull out all the stops.
Still, the bundle does come with a digital copy of the game, along with a one-month subscription to Xbox Live Gold. That free month will allow you to dive into the game without having to pay extra for a subscription, though obviously you're going to have to shell out for Gold if you want to keep playing beyond that first month. You'll also get a month of Xbox Games Pass, which is Microsoft's on-demand service launched to rival PlayStation Now.
Perhaps the most tempting part of this bundle is the console's 1TB hard drive. In this age of digital games, the standard 500GB hard drive that ships with many Xbox One S bundles doesn't really cut it. Though you'll probably still fill up 1TB at some point down the road, the extra space ensures that you won't be feeling the squeeze right away.
This new bundle launches on March 20, which is Sea of Thieves' release date. It'll cost $299.99 at launch, which isn't too bad a deal considering the console's 1TB hard drive. Are you picking up Sea of Thieves next month? Head down to the comments section and let us know!