Scientists create hockey-playing robot, in Canada of course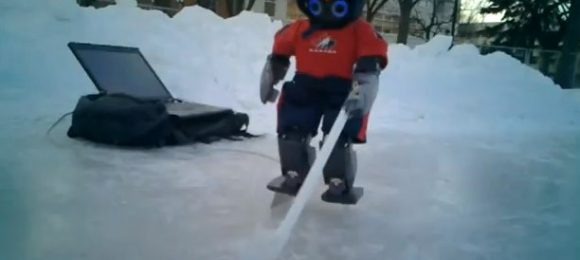 When they're not making scientific advancements in maple syrup, Canadians generally turn their attention to hockey. Okay, that's all for this round of stereotypical news headlines, but seriously, researchers in Canada have taken the time to create an autonomous humanoid robot that can play hockey. The robot, named Jennifer, is capable of maneuvering around ice and shooting pucks with precision into a goal. In other words, she's more athletic than me.
The robot, named after Canadian female hockey star Jennifer Botterill, was developed at the University of Manitoba, and will be in a robotic competition in St. Paul, Minnesota later this year. Hockey is well known for being a full contact sport, but in a world where we expect to see robots duking it out in battles to the death, this seems pretty tame in comparison. In fact, it might even make people outside of Canada somewhat interested in hockey. Maybe.
This isn't the first time university researchers in Canada have created a hockey-playing robot. In fact, just last year a similar creation was developed at the University of Waterloo. That robot was able to make slapshots at speeds of up to 110 miles per hour. I wouldn't want to be the goalie defending against that monstrosity. The real question is when we'll start watching robots instead of humans on ESPN, Jetsons-style. Hopefully it won't be too long from now.
[via Yahoo Sports]