Science says magic mushrooms are the safest recreational drug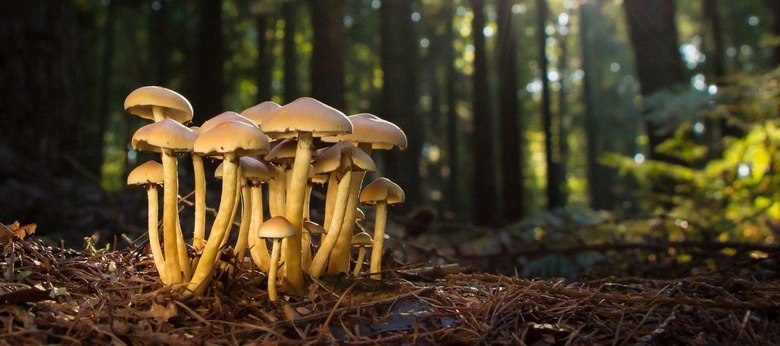 Prepare to feel vindicated, mushroom-lovers. A new survey has found that mushrooms containing psilocybin are the safest of all recreational drugs, topping other popular favorites including tobacco and alcohol. The information comes from the latest Global Drug Survey, which found that the biggest risk related to mushrooms is picking the wrong kind and then becoming ill from consuming them. This is based on data from users who report very infrequent instances of emergency medical treatment following magic mushroom ingestion.
The Global Drug Survey evaluated several common recreational drugs as part of its research, including cannabis, synthetic cannabis, amphetamines, methamphetamine, alcohol, cocaine, LSD, and magic mushrooms. A total of about 120,000 participants were involved in the survey, and they span a total of 50 countries.
The results may surprise those unfamiliar with the substances, though they largely reflect what users report: that methamphetamine, synthetic cannabis, and alcohol are the most likely to result in needing emergency medical treatment, while magic mushrooms was the least likely, followed by cannabis and LSD. Taking up the middle of the survey are, in order, MDMA/ecstasy, amphetamines, and cocaine.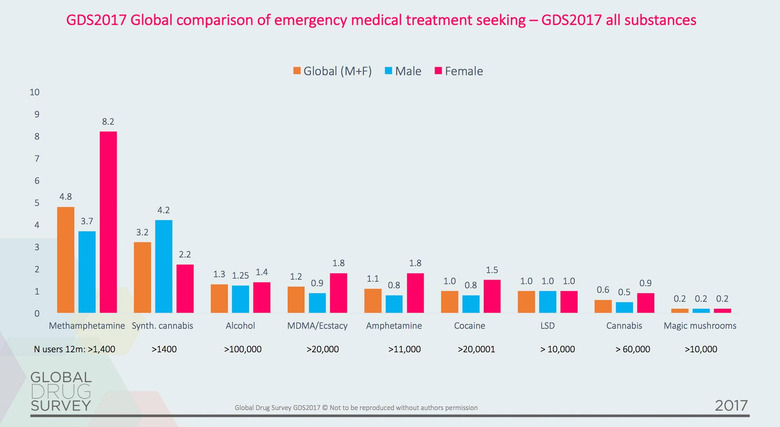 Volunteers surveyed originate from a variety of countries, including places like the US, Canada, the UK, Australia and New Zealand, Mexico, Colombia, Belgium, France, Spain, the Netherlands, and more. The survey respondents were 68-percent male and 32-percent female, with most of them being either less than 25 years old or greater than 35 years old, and with most of them being employed and/or full-time students. Nearly 42-percent of those surveyed have at minimum a university degree, and nearly the same percentage report going clubbing at minimum every three months.
Likewise, 90.5-percent of the respondents were white, with the second-highest ethnicity being 3.2-percent 'mixed.' Of the volunteers, 79.3-percent reported having used illegal drugs at some point in their life, though only 2.3-percent of them said they'd tried an injected drug, and only 0.8-percent of them had done so in the last year before the survey.
Not surprisingly, alcohol was the top drug of choice, with 98.7-percent of respondents saying they had consumed alcohol at some point in their lives. Next highest was cannabis at 77.8-percent, followed by tobacco in third place at 63.1-percent. Other legal drugs follow in the top slots, including 'caffeinated energy drinks' at 57-percent and hookah tobacco at 55-percent.
The numbers drop sharply from there, with MDMA/ecstasy following at 38.3-percent. Magic mushrooms fall at #9 on the list with 24.4-percent of respondents saying they had tried them at some point in their lives. Skipping ahead in the report, we see that of the nearly 10,000 respondents who had consumed magic mushrooms in the past 12 months, only 0.2-percent had sought emergency medical treatment: a total of 13 men and 4 women. According to the Global Drug Survey, 'Magic mushrooms were the safest drugs to take in terms of needing to see emergency medical treatment.'
Magic mushrooms were evaluated to be safer to take than LSD due to the easier dosing, though the biggest risk with MM was picking the wrong kind. Furthermore, the GDS went on to say, 'People who use psychedelics are generally very sensible and show some of the best preparation and adoption of harm reduction practices of any drug.'
You can read the results of the survey here.