Scan Those Old 35mm Negatives To Digital Prints With firstSTREET 35mm Slide Scanner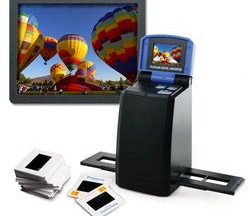 My mom has gobs of pictures that she took when I was a kid. The original prints are starting to get yellow as the years go by, but she has all the negatives. If you or someone you know has lots of negatives or slides from long ago that they would like to turn into digital prints, the 35MM Slide Scanner will do the trick.
The device needs no computer to do the conversion. You slip the slide or negative into the scanner and it is turned into a digital copy in 5MP resolution. A 2.4-inch color LCD lets you see what the digital print looks like.
The device has 32MB of internal memory, but has a microSD card slot for up to 16GB of additional space. The scanner is available now for $129.95 and includes the USB cable and other items needed for it to work.