Say hello to Street Fighter 5's newest DLC character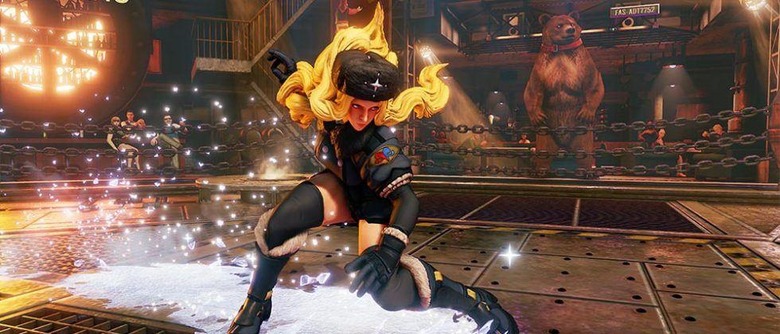 Street Fighter 5 fans have something to look forward for at the end of the month, as Capcom has announced the game's newest DLC fighter. Kolin will be joining the roster as the second character in Season 2, and she'll become available on the final day of February. She uses the Russian martial arts style of Systema along with ice-themed powers, so perhaps it's appropriate that Capcom is releasing her while we're still knee-deep in winter here in the US.
Kolin – which is pronounced like you'd say the name Jolene – made her first appearance way back in Street Fighter 3. When we first met her, she was working behind the scenes for Gill, but now in Street Fighter 5, she comes center stage to fight out in the open. Capcom says that her character story will cover how she came to work for Gill, so longtime fans of the series will be treated to a bit of backstory here as well.
Not only do we get a reveal trailer for Kolin, but Capcom also shared details on some of her more powerful moves. First is her V-Skill, Inside Slash, which counters an incoming attack from her opponent and sends them flying backward.
Her V-Trigger is called Diamond Dust. With Diamond Dust, she slams her foot into the ground to create a row of icicles. Keeping with the ice theme, this move freezes the opponent in place if she manages to land a stun while they're under the effects of Diamond Dust.
Finally, we come to her Critical Art, Frost Tower. Kolin summons icicles that shoot her opponent into the air, before disappearing and dropping them to the ground. It sounds rather painful, if I do say so myself.
If you've already purchased the Season 2 Character Pass, you'll get Kolin on February 28 at no extra cost. She'll be joining Akuma as the only DLC characters from Season 2 revealed thus far, with four more coming up within 2017. The Season 2 Character Pass runs $30 in the US, and Capcom promises that new characters will be revealed every other month beginning with Kolin's reveal this month.
However, Capcom won't exactly be silent in those off-months. Instead, it will discuss additional content and incoming changes, including an soon to be released balancing patch. Capcom says "additional changes are in the works to bring characters in-line with how we envision them to perform," and that we'll hear more about those changes in early March. For now, though, head down to the comments section and tell us what you think of Kolin!
SOURCE: Capcom