Savant Rosie touch panel controls everything but the kitchen sink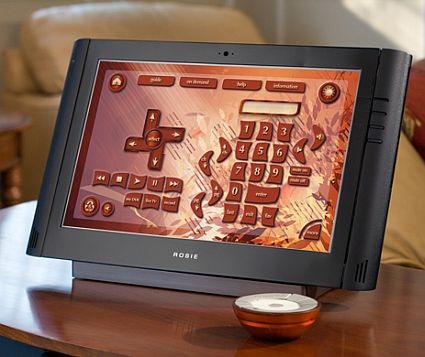 Not only is it apparently skinnable, but you can do just about everything with it, I bet you could probably play Xbox 360 and PS3 with it if you tried hard enough. This touch panel can not only control devices that output audio and video, but the Rosie itself can output audio and video.
It has a touchscreen TFT LCD, WiFi, and an integrated webcam. It can control A/V for several rooms, control a digital media server, act as a jukebox, perform surveillance duties and home automation.
If you don't feel like turning on your whole entertainment system to watch the morning weather, you can just stream it to the Rosie. This thing is freaking amazing, if you have a decent setup at home or work, one that would be worthy of a Rosie, I definitely recommend you get one, but I have no idea about price or availability. If I had to guess though, its probably one of those things where if you have to ask....
Multifunctional 'Rosie' Touch Panels by Savant [via bornrich]