Satsports Multi-sports GPS launches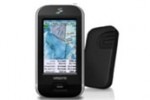 There are all sorts of uses for GPS devices from plain navigation while driving or walking in unfamiliar areas to helping you improve your golf game. A company from the UK called Satsports has unveiled a new GPS device called the Multi-sports GPS today that bundles GPS for running, biking, skiing, and golfing into one weatherproof device.
The GPS device uses a Samsung 2440A 400MHz processor, runs Windows CE 5.0, has 256MB of flash storage and 64MB of RAM. The GPS is a SiRF Star III embedded patch antenna and the device gets power from an internal lithium ion battery.
The device ships with applications including Satski, Pocket Caddy, and Satsports log to help athlete track their workouts and shoot better on the golf course. A SD card can be purchased that turns the device into a traditional GPS navigation unit as well. The Satsports GPS device sells for $490 and will be available at nationwide retailers soon.