Satisfy your hardcore gaming needs anywhere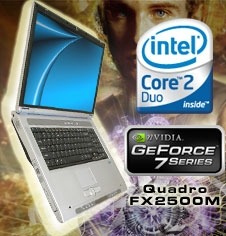 If you're a hardcore gamer and need to be able to pack up your rig and take it on the road, you know that toting around a full ATX case can be quite cumbersome. You could always get a laptop, but they're never as good as your desktop.
Eurocom is trying to change that thought. They have been making high-end gaming computers for a while now, and have recently introduced a laptop that might just give your desktop a run for its money. You'll get an Intel Core 2 Extreme processor, a Phantom boost dual Nvidia GeForce Go 7950 GTX 512MB / Nvidia Quadro FX 2500M 512MB. You'll also be able to upgrade your video card in the future if you deem it necessary.
They spared no expense on these, you'll also get a 600Gb HDD with RAID 5, 4GB RAM, Bluetooth, WiFi and an HDTV tuner. The base price starts at $2,899.
Eurocom D900C workstation-class gaming laptop [via pclaunches]