Satellite X205-SLi1 and X205-SLi3 - Toshiba Gaming Laptops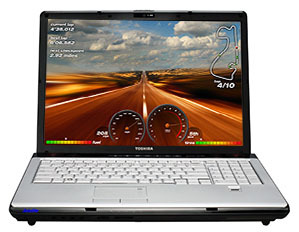 Toshiba is adding two Satelitte laptops targeted towards power gamers. The X205-SLi1 and X205-SLi3 is nothing less than a beast in term of specs.
Both laptops feature Intel Core 2 Duo CPU. The SLi1 uses 2.0Ghz T7250 and the SLi3 uses the faster 2.2Ghz T7500. Base machine ships with 2GB of DDR2 RAM and it could be upgraded to 4GB DDR2 RAM. On the graphics side, Toshiba chooses Nvidia GeForce 8600M GT GPU with 512MB GDDR3 memory for both SLi1 and SLi3.
Toshiba equipped these laptops with two SATA hard drives; SLi1 comes with total 240GB and the SLi3 with 320GB. The 17-inch screen on SLi1 has a resolution of 1440 x 900 while the higher end SLi3 has resolution of 1680 x 1050.
802.11 a/g/n and Bluetooth 2.0+EDR comes standard on both models. The SLi3 comes with extra bonus, a Toshiba external USB HDTV tuner.
The Toshiba Satellite X205-SLi1 and X205-SLi3 are now available in the US for $2,000 and $2,500 respectively.
Toshiba ups the game with laptop duo [via reghardware]