Satechi Trio Wireless Charging Pad is made for your iPhone and its friends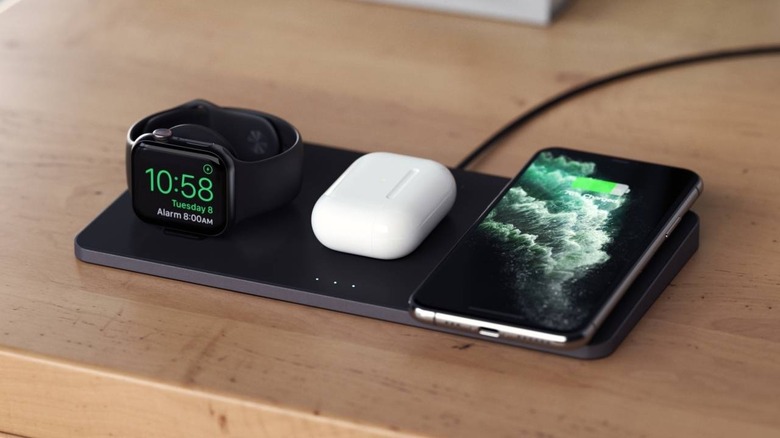 Remember the AirPower, one of Apple's embarrassments that will be forgotten in a few years? The failure of a first-party wireless charging mat opened the doors for accessory makers to try and fill in the gaping hole left by the canceled product. And to no one's surprise, such "alternatives" follow the same formula but just give it a different spin. Like Satechi's new Trio Wireless Charging Pad that will let you wirelessly charge one iPhone, one AirPods, and one Apple Watch and nothing more.
Apple's wireless charging mat was admittedly innovative. While most wireless charges catered to just one device, the AirPower would have accommodated three devices. Not three iPhones, mind, but three things that go together, or at least Apple hopes you would buy them all.
Satechi's new wireless charging pad follows that same concept with a slight twist. Thanks to a hinge mechanism, you can charge the Apple Watch in Nightstand mode so you can still have its functionality while charging. Of course, you can also lay it flat if you prefer not to be distracted or tempted to be distracted.
Of course, Satechi threw in some bonuses, like the single USB-C connection to power the pad. It has foreign object detection as well as over temperature protection to ensure the safety of both the pad and charging devices. It is also promised to be iPhone case-friendly, as long as the case doesn't exceed 5 mm in thickness.
The Satechi Trio Wireless Charging Pad is available now from both the company's online store and Amazon for $119.99. The pad is compatible with the iPhone 8 and later, the AirPods 2 and AirPods Pro, and Apple Watches. From January 7 through 10, early bird buyers can grab a $20 discount using the STCES2020 coupon on both stores.