Sapphire Edge-HD3 Mini PC revealed with AMD Fusion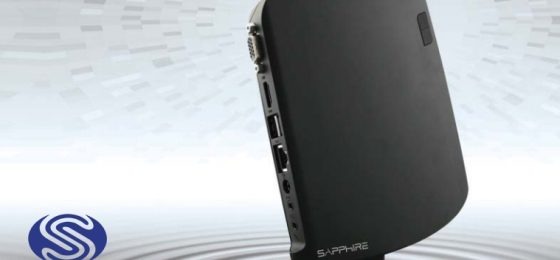 There's a brand new Sapphire Technology computer coming out soon, and its full up with AMD Fusion to keep your party pumping. Up until now we've seen Sapphire Edge-HD devices coming out with Intel Atom processors and NVIDIA ION graphics, now this beast is popping up with a feature unique to its line: AMD Fusion under the hood. This PC line is know for its ultra tiny footprint and its ability to look rather inconspicuous while it jams out the graphics and the computing power – is AMD the key to your heart?
This device showed up at the FCC just this past week and has been revealed by Sapphire today, it coming complete with an AMD E-450 dual-core processor and Radeon HD 6320 graphics to keep you warm at night. This computer has the ability to support 4GB of RAM, has its own 2.5-inch hard drive bay with support for up to a massive 500 GB of hard disk space. Inside you'll get Edge-HD3 or FreeDOS software out of the box, but you'll be able to load Windows 7 or any other comparable operating system on command.
This unit measures in at 7.6 x 5.8 x 0.9 inches and weighs in at less than 1.2 pounds. You've also got Wi-fi, Ethernet, VGA port, HDMI port, and audio ports. You've also got 2 USB 2.0 ports as well as 2 USB 3.0 ports to keep you as connected as you're ever going to want to be. It's a love festival in a package that can fit in your giant pocket! Take a peek at the older models at the Sapphire site and see how they compare. Pricing and release date have not yet been released for this newest HD3 model – can't wait!
[via Liliputing]