Sanyo XACTI VPC-SH1 And VPC-CS1 Drop Bulk, Keep Full HD Recording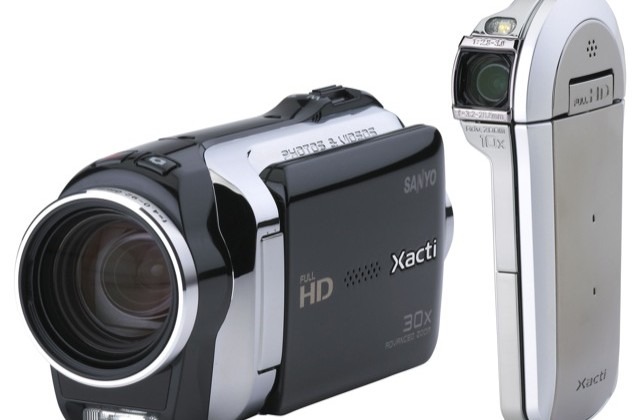 Sanyo have announced two new XACTI Full HD camcorders, one upright and one a more traditional palmcorder-format, and they've managed to slim down both impressively.  The Sanyo XACTI VPC- SH1 is the traditional model, with a 35mm wide-angle lens and 30x optical zoom, Full HD 1080p recording and a body that tapers in sharply after the lens bulk at the front.  Meanwhile the Sanyo XACTI VPC-CS1 is the upright model, capable of capturing the same Full HD video as previous high-end XACTIs but only measuring 1.06-inches across.
Even better for ease of use, Sanyo have switched to MPEG-4 AVC/H.264 as the native recording format, which means drag-and-drop compatibility with apps like Windows Live Movie Maker.  Previously you'd have had to convert the AVCHD footage into something more software-friendly, a time-consuming intermediary stage.
The XACTI VPC-CS1 can capture 3-megapixel stills (8MP with interpolation) and the VPC-SH1 can manage 4-megapixel (10MP with interpolation); they both feature zoom microphones which narrow to gun-mode the more you zoom in on a subject.  Similarly each has digital image stabilization and face tracking, together with the more unusual "target a color function".  Connectivity includes a mini-HDMI port, Eye-Fi compatibility and SDXC memory card compatibility.
Both camcorders will go on sale in February 2010, priced at $399.99 for the Sanyo XACTI VPC-SH1 (in either red or black) and $299.99 for the Sanyo XACTI VPC-CS1 (in silver).