Sanyo Xacti DMX-HD1000 World's Smallest 1080p Camcorder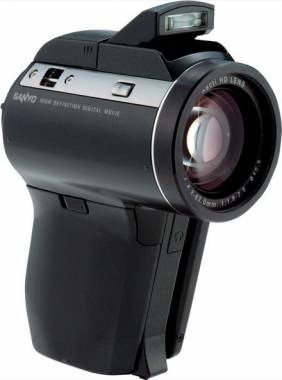 Sanyo's latest is a real beauty, and it shoots 1080p video too. It records in either MPEG-4 AVC or H.264 formats.
There is also a generous 10x optical zoom. They 2.7-inch LCD folds out (from where?) and allow you to view what you are shooting. You can also use the cam for 8MP still shots.
The 1080p will roll at 60 frames per second, but won't roll for long due to the lack of a dedicated HDD, instead they decided an SDHC card slot was better suited, so your 1080p movie will be cut short at a mere hour and 25 minutes with an 8GB SDHC card. So far its looking Japan only, but it will drop there in September for about $1041 USD.
Sanyo xacti claims worlds smallest 1080p camcorder [via technabob]