Sanyo unveils VPC-HD2000A and VPC-FH1A dual cameras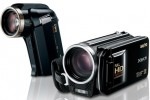 Sanyo has pulled the wraps off a pair of new video cameras called the VPC-HD2000A and the VPC-FH1A. The cameras are both in the Sanyo high-end Dual Cameras range and are the world's first camcorders to offer compatibility with the iFrame video format.
The iFrame format is a next generation format of video designed to allow the video to be easy to import, edit, and share. The VPC-HD2000A will sell for $599.99 and the VPC-FH1A will sell for $499.99 with both available in stores today.
The iFrame format is compatible with editing applications on both Mac and Windows PCs. Video recorded on both cams is stored to SD/SDHC cards. The cameras both record in 1080i and 1080p HD formats at 60 frames per second. Resolution with the iFrame format is 960 x 540 at 30 frames per second. Both cameras can shoot 8MP still shots. The FH1A has a 3-inch LCD and the HD2000A has a 2.7-inch screen. Both sport 10x optical zoom for still shots and 16x optical zoom for video. The FH1A has HDMI out, the other cam features an HDMI cradle and an external mic input.