Sanyo Unveils New Projectors For Work And Education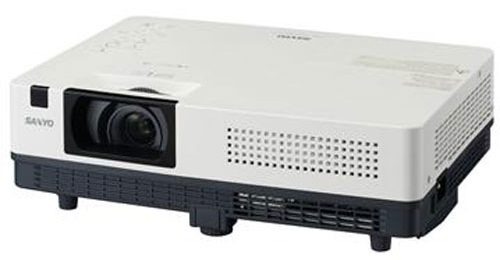 Sanyo has pulled four new projectors out for the business and education markets that are ultra portable and promise long lamp life. The new projectors all use 3LCD tech and included the WK2500, XK3010, XK2600, and XK2200 projectors. The projectors all have an eco mode setting that promises to extend lamp life to 6000 hours.
The WK2500 has a 16:10 aspect ratio with a contrast ratio of 3000:1 and 2500 lumens of brightness. The XK3010 has a XGA resolution with a 2000:1 contrast ratio and 3000 lumens of brightness. The XK2600 and XK2200 both have XGA resolution and 2000:1 contrast ratios. The difference between the two is that the 2600 has 2600 lumens of brightness with the 2200 getting 2200 lumens.
The projectors can all throw an image ranging from 40" to 300" depending on how far it is from the projection surface. Inputs for the range include VGA and RCA. The projectors have mini stereo inputs and LAN ports for control. The line is all the same size as well measuring 13.1" W x 4" H x 9.7" D and weighing in at 6.4 pounds. The WK2500 will ship this month for $995 with the others coming in December at $1145 for the 3010, $995 for the 2600, and $845 for the 2200.