Sanyo unveils new DMX-CA100 waterproof full HD camcorder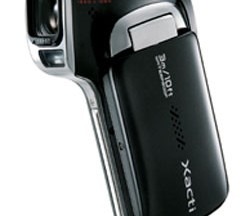 Sanyo has unveiled what it calls the world's first waterproof full HD camcorder that is capable of recording full 1080p resolution video underwater. That would make for a great camera for that snorkeling vacation this summer.
The camera is called the DMX-CA100 and it will launch at the end of June. The camera will be offered in black, yellow, and pink colors and pricing is not yet announced. The camera is capable of being underwater at up to 3 meters for up to an hour meeting IPX8 standards. The resolution is 1920 x 1080 and video is recorded in MPEG-4 AVC and H.264 formats.
In addition to recording 1080p video, the camera can also shoot 14MP still shots and has high-speed sequential shooting mode that can take 22 photos in a row at seven frames per second. To hit that speed photos at shot in 2MP resolution. The camera also has up to 12x zoom.