Sanyo unveils HD projector with 23.6-inch short-throw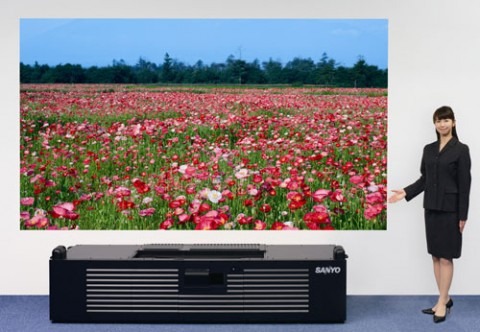 Sanyo showed off a pretty impressive piece of technology in Japan today with their latest prototype projector. This projector is capable of full HD images at 16:9 and 1080p. But that's not the cool part. What's cool is this projector has a super short-throw. I mean, really short.
In fact, it can project 100-inch images from only 23.6-inches away! That makes for a 0.28 throw ratio. And then you only need 37 inches between the projector and screen for a 150-inch image. This would make for the ultimate convenience in projection video-watching, because you could essentially put the projector anywhere in the room.
Specs include 7,000 lumens of brightness, a three-panel DLP system, concave mirror projection, an ultra-short focus lens group and more. The brightness is actually the highest available in the world and is due to a laser light source. However, the projector is very large measuring in at 93.3" x 20" x 24.8". No word on pricing or availability, but we're definitely keeping our eye on this one.
[via Ubergizmo]