Sanyo announces two ultraportable green projectors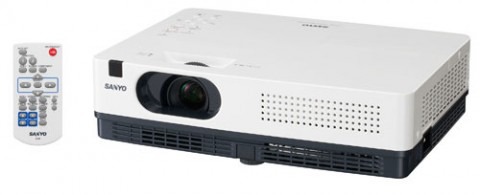 Sanyo announced two brand new projectors today that fall into the ultraportable category. The PLC-XW250 and the PLC-XW200 are the perfect addition to any classroom and have the proud distinction of being eco-friendly.
Both projectors have a 1,280 x 768 resolution and feature a standby mode that uses only 0.4W of power. This is actually an 80% improvement since the last Sanyo projector line. It should also be noted that the packaging is thoroughly green as well, with recyclable pulp molds being used over styrofoam.
To get down to the specifics, both projectors have a 500:1 contrast ratio, a 200W lamp, minimum and maximum screen sizes of 40- and 300-inches and a 4:3 aspect ratio. Also included are several inputs include S-video, composite, VGA and an Ethernet jack. The only difference between the two models is the brightness. The PLC-XW-200 has a brightness rating of 2,200 lumens, while the PLC-XW250 has 2,600 lumens. Both will be available this month for $795 and $895, respectively.