Sanyo announces Industrial Grade Dual Lamps LCD Projectors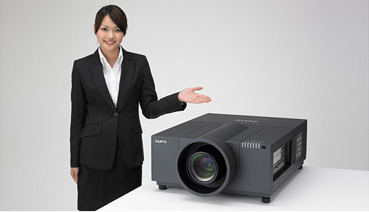 Sanyo reveals two new members of commercial-use LCD projectors today at Japan. Model LP-XF70 features standard 4:3 aspect ratio with 1024x768 resolution, capable to produce 9000 lumens, 2000:1 and equipped with DVI-D, D-sub, components, BNC-15, S-video inputs with extra two more optional inputs.
The widescreen version has 1366x800 resolution with 6000 lumens and similar spec. Both using the same 330w NSHA dual-lamps design, sharing the same chassis and has the weight of 61 pounds. The 70 series is the world brightest dual lamp 3 LCD projector, it's huge and expensive. Both will be available in Japan next month with the price tag of $32,900 for 70 series and $23,500 for the 20.
Sanyo Press Release [via Sanyo Japan]