Sandy Bridge based Chromebook demoed at IDF Beijing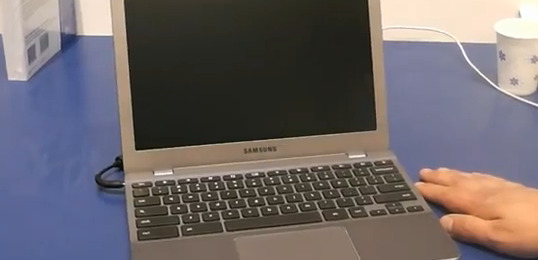 While the Chromebook hasn't taken off in quite the way Google expected it to, OEMs are still working on them. Samsung demoed a Chromebook at this year's IDF in Beijing that would have an "instant on" boot thanks to new Coreboot code, a Linux-based BIOS replacement that talks to the computers hardware. Why does Coreboot sound so familiar? Just last week there was news that Google added code to Coreboot for Sandy Bridge and Ivy Bridge processor support. Is that what was on display at IDF?
The model that Netbooknews found wasn't packing one of Intel's latest Ivy Bridge processors. The Verge, however, did confirm with Google that the Chromebook being demoed had a Sandy Bridge CPU under the hood, which sits nicely with the code update that Google pushed out to Coreboot not too long ago.
A Sandy Bridge powered Chromebook would be an interesting move for Google. The original Chromebooks were criticized for their often sluggish performance thanks to the Atom processor used, so the huge boost in CPU power would help tremendously. Not only that, but the HD 3000 GPU found on Sandy Bridge processors would help with video decoding on the web, as well as rendering browser-based games. No word yet on when we'll be seeing a Chromebook with a Sandy/Ivy Bridge processor.