SanDisk unveils Sansa Clip+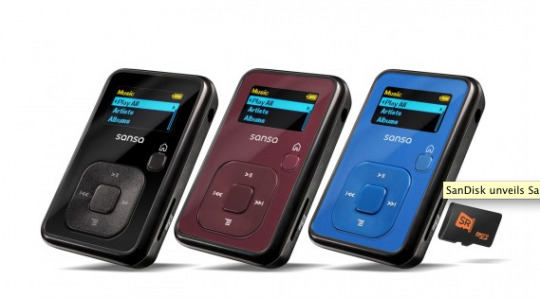 SanDisk has been playing a very distant second place against Apple's dominating iPod line in the PMP market for a long time. Right behind SanDisk is Microsoft with its line of Zune PMPs. SanDisk has announced its latest MP3 player called the Clip+ today.
The Clip+ offers a microSD card slot allowing users to transfer music to and from the card directly. The update will also allow the Clip+ to support SanDisk's slotMusic format of albums. Sandisk is aiming the Clip+ MP3 player at users on a budget with a 2GB version selling for $39.99, a 4GB version for $49.99, and an 8GB version for $69.99.
The player features a wearable clip for portability, a 1-inch OLED screen, FM tuner with 40 presets, a built-in mic, and an EQ for customizing the listening experience. Other features include a rechargeable lithium ion battery good for 15 hours per charge and support for subscription music services like Rhapsody, Napster and others.