SanDisk iXpand Flash Drive launches with flexible Lightning connector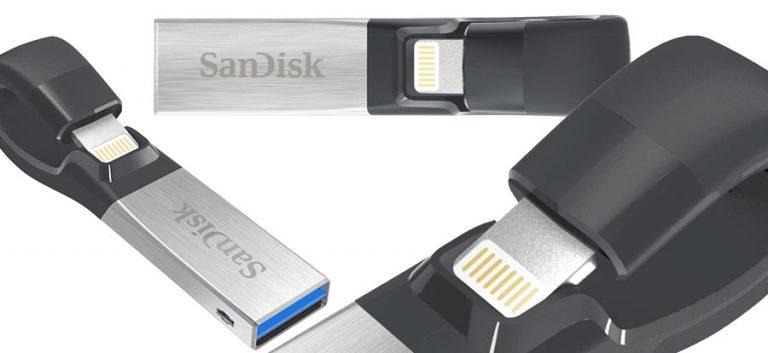 If Lexar's newly launched microSD Lightning dongle isn't quite to your tastes, SanDisk has launched a similar offering, this one in the form of a thumb drive. The new iXpand Flash Drive refreshes the maker's former iXpand offerings with a new slim, sleek design and a Lightning connector attached to a flexible arm. The drive is available now in capacities ranging from 16GB to 128GB.
SanDisk has overhauled the iXpand design and its mobile app, making it more useful for on-the-go photographers by allowing them to launch the camera directly within the iXpand iOS app. Any pictures taken via that method will be saved directly to the attached flash drive rather than onto the iPhone's own storage, eliminating the need to pause and transfer over data.
The flash drive works with Macs and PCs over USB 3.0, and can be password-protected using included encryption software. Other features include automatic data backups to the cloud, video and audio playback within SanDisk's mobile app, and sending pictures directly to Facebook, Twitter, and other social websites.
The new SanDisk drive supports the iPad mini – iPad mini 4, 5th generation iPod, iPad Air/2, iPad Pro, iPhone 5 – iPhone 5s, iPhone 6/Plus, and iPhone 6s/Plus. The lowest capacity model, the 16GB, is priced at $49.99 USD, the 32GB is priced at $69.99 USD, the 64GB at $89.99 USD, and the 128GB at $129.99 USD.
SOURCE: SanDisk