SanDisk Extreme Pro CFast 2.0 Has Up To 450 MB/s Reads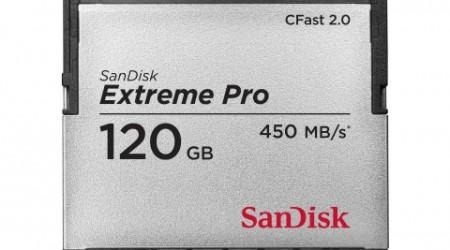 SanDisk recently announced a new memory card aimed at cinema pros. The memory card has 120 GB of storage and is called the SanDisk Extreme Pro CFast 2.0 memory card. The memory card product is aimed at professional broadcast, cinematography, and professional photography markets.
The 120 GB memory card has the world's fastest read speeds according to SanDisk. The memory card is good for read speeds of up to 450 MB/s. It also supports write speeds of up to 350 MB/s.
SanDisk says that the new memory card and its fast read and write speeds will allow professional photographers and cinematographers to manage large files quicker than ever. To compare the speed of the new memory card with a traditional memory card, SanDisk says a 100 GB file takes nearly 20 minutes to transfer from a CompactFlash card at 90 MB/s.
The new CFast 2.0 memory card can transfer that same file 4 minutes at 450MB/s. SanDisk's new memory card is the first to utilize the new CFast 2.0 specification and early adopters with hardware to support new memory card format include Canon, Codex, and ARRI. The faster memory card will make it easier for professionals to work with 4K ultra HD resolution video files, which can be very large. SanDisk also has a new Extreme Pro CFast 2.0 reader/writer that connects via USB 3.0 supporting the fast file writes and transfers. Pricing and availability is unknown at this time.
SOURCE: SanDisk