SanDisk Extreme Pro CF cards deliver 90MB/s transfers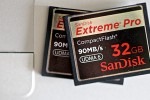 SanDisk have just outed a new range of Compact Flash memory cards aimed a pro-photographers, the SanDisk Extreme Pro series, promising capacities ranging from 16GB to 64GB and read/write speeds of 90MB/s.  SlashGear's old friend Chase Jarvis has been shooting the campaign, and you can see his preliminary rapid-fire footage after the cut.
"I don't know much about speed tests and all that technical mumbo jumbo–that's best suited for labs in Silicon Valley and press releases, but what I do know is that I never waited on these cards, and I shot 25-frame RAW file sequences all day without running out of storage" Chase Jarvis
Thanks to the UDMA-6 bus the new Extreme Pro cards are twice as fast as SanDisk's previous range, and there's also new wear-leveling technology to prolong lifespan.  Meanwhile they're each rated for use in temperatures ranging from minus 25 centigrade to plus 85 centigrade, and have an RTV silicone coating for moisture and humidity protection.
Finally they're drop-proof from up to 9ft, and have a lifetime warranty.  They're set to hit the market in October 2009, with UK prices of £197 to £657 for the 16GB to 64GB versions, and US prices of $304, $518 and $812 for the 16GB, 32GB and 64GB models respectively.
Press Release:
SANDISK EXTREME PRO COMPACTFLASH CARD RAISES BAR FOR PROFESSIONAL GRADE PERFORMANCE, CAPACITY AND RELIABILITY

World's Fastest High-Capacity Memory Card Features SanDisk

Power Core Controller That Optimises Card Endurance and

Boosts Read/Write Speed to up to 90MB/s

SanDisk Corporation (NASDAQ: SNDK), the global leader in flash memory cards, today introduced a new line of SanDisk Extreme® Pro™ CompactFlash® memory cards, setting a new standard for fast, reliable, high-capacity memory cards designed for professional photographers. SanDisk Extreme Pro CompactFlash cards feature a new SanDisk® Power Core Controller™, an advanced memory controller that enables lightning-fast read and write speeds of up to 90MB/s1, doubling the performance from previous SanDisk high-end cards. The cards are shipping worldwide now with capacities ranging from 16 gigabytes (GB)2 to 64GB.

"The new SanDisk Extreme Pro CompactFlash line is the direct result of SanDisk's passion, commitment, and break-through engineering innovation to provide best-in-class flash memory cards for professional photography," said Eric Bone, vice president, retail product marketing, SanDisk. "The SanDisk Power Core Controller delivers unmatched write speed and reliability, providing photographers with a spectacular combination of performance, capacity and peace of mind that images are safely stored."

SanDisk develops its flash controllers and memory chips together, allowing the company to perfectly match and fine-tune the two technologies throughout the testing process, resulting in high-performance products with industry-leading endurance. The SanDisk Power Core Controller brings numerous benefits to the SanDisk Extreme Pro CompactFlash cards, including:

· High-Performance: The SanDisk® Power Core™ Controller's dual-lane architecture and software algorithms double card performance, enabling the SanDisk Extreme Pro CompactFlash cards' read/write speeds of up to 90MB/s over a UDMA-6 bus.

· Increased-Reliability: The SanDisk Power Core Controller's firmware algorithms and 42-bit ECC engine maintain data integrity and extended card endurance through optimised wear leveling.

· Simplified Design: To further increase overall card durability, the SanDisk Power Core Controller features an integrated design that requires fewer individual components on the card's printed circuit board.

Pr Professional-Grade Memory:

Faster read and write speeds mean more opportunities to capture the winning shot and less time spent offloading gigabytes of images afterwards. Large storage capacity enables photographers to capture RAW images and high-definition video clips in a single session without running out of space.

"Professional-grade memory cards play an important role in producing optimal results from Nikon's high performance Digital SLR cameras," said Mr. Sasagaki, general manager, marketing department, Nikon Corporation. "The SanDisk Extreme Pro CompactFlash card's 90MB/s read and write speeds will boost overall DSLR performance and help photographers get the most out of our cameras."

The SanDisk Extreme Pro CompactFlash cards' 16 to 64GB capacity range offers the storage space needed to allow extended shooting sessions without having to reload, while the cards' 90MB/s read/write speeds ensure that professionals can transfer their data quickly. This unique combination of speed and capacity makes the new line of cards well suited for professional usage models involving large amounts of data and tight deadlines.

"As a professional sports photographer, I rely on aspeedy camera and high-performance SanDisk Extreme Pro cards to capture as many images as possible within a few seconds using continuous burst mode," says Jeff Lewis, professional photographer and member of the SanDisk Extreme Team. "How fast you can download and edit images from the cards makes a big difference when it comes to getting sports images distributed. The first images out of the media room tend to be the ones that get picked up. Speed really counts for getting selected by the top photo editors."

Renowned for their world-class durability, SanDisk Extreme cards guarantee operation at extended temperatures ranging from minus 13 F (minus 25 C) to 185 F (85 C). SanDisk Extreme Pro CompactFlash cards feature RTV Silicone coating for added protection against moisture and humidity. The cards can withstand accidental drops of up to nine feet, and carry a lifetime limited warranty.3

SanDisk Extreme Pro CompactFlash cards are fully compatible with any camera, card reader or other device that supports CompactFlash cards.4 The SanDisk Extreme Pro ExpressCard™ Adapter is optimised to take advantage of the SanDisk Extreme Pro CompactFlash card's up to 90MB/s read speed. The reader carries an MSRP of $49.99 and will be available in late October on SanDisk.com and at select retailers.

Pricing and Availability

SanDisk is also introducing new SanDisk Extreme CompactFlash cards at increased performance of previous SanDisk Extreme III CompactFlash cards. The new SanDisk Extreme and SanDisk Extreme Pro cards represent the step beyond SanDisk Extreme III and SanDisk Extreme IV cards, respectively.

SanDisk Extreme CompactFlash cards will be available in capacities of 8GB to 32GB and MSRP ranging from £61 to £190, while SanDisk Extreme Pro CompactFlash cards will be available in capacities of 16GB to 64GB and MSRP ranging from £197 to £657. Exact pricing for the cards will be set by retailers.

CompactFlash Card Line

Performance1

Available Capacity2

SanDisk Extreme

60MB/s read/write speed (400x)

8GB, 16GB, 32GB

SanDisk Extreme Pro

90MB/s read/write speed (600x)

16GB, 32GB, 64GB

About SanDisk

SanDisk Corporation is the global leader in flash memory cards, from research, manufacturing and product design to consumer branding and retail distribution. SanDisk's product portfolio includes flash memory cards for mobile phones, digital cameras and camcorders; digital audio/video players; USB flash drives for consumers and the enterprise; embedded memory for mobile devices; and solid state drives for computers. SanDiskis a Silicon Valley-based S&P 500 company, with more than half its sales outside the United States.

______________________________________________________________________

1Up to 90MB/s read/write. Based on SanDisk internal testing; performance may vary depending upon host device. 1 megabyte (MB) = 1 million bytes. X=150KB/sec.

2 1 gigabyte (GB) = 1 billion bytes. Some capacity not available for data storage.

3 Warranty may vary by country.

4 Actual read and write speeds of the SanDisk Extreme Pro CompactFlash cards are dependent on host device.