SanDisk Extreme III 30MB/s SDHC Cards Launch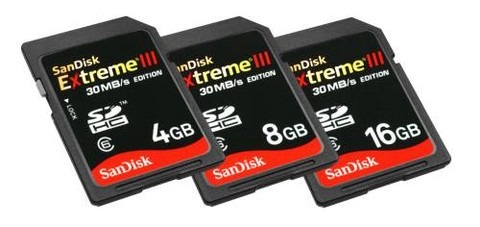 SanDisk have announced their latest high-speed SDHC memory cards, the Extreme III 30MB/s edition.  As the name suggests, the cards are now capable of 30MB/s data transfer rates, up 50-percent on the previous generation.  Sizes will include 4GB, 8GB and 16GB.
The speed boos makes it possible to record 39 images in continuous shooting mode at 4.5 frames per second with a file size of 6.0 MB JPEG L Fine per image; SanDisk are using the Nikon D90 as an example of the sort of DSLR that could take advantage of that performance.  Transfers from the card to a computer are faster too.
All of the class 6 cards are capable of functioning in extreme temperatures, from -13 to 185 degrees Fahrenheit, and have a lifetime warranty.  The SanDisk Extreme III cards will be available worldwide in September, priced at $64.99 for the 4GB card, $109.99 for the 8GB card and $179.99 for the 16GB card.