SanDisk drops 8GB microSDHC card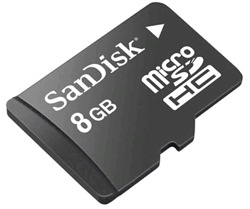 Well, with the iPhone and iPod Touch coming in 8GB capacities a single expansion card slightly larger than the home button on both of the aforementioned devices is nothing to dismiss. That means that you can take just about any modern phone and grant it the same storage capacity of the iPhone.
There are also M2 cards in the same capacity for those that have compatible devices with those cards. Anyways, like I said, 8GB of storage is a lot when it can all be fit on such a tiny, tiny card.
SanDisk is launching a SlotEducation program to teach people about the card slots on their mobile devices and to show the benefits of using them. Part of that campaign is a big launch party in LA tonight, performers will include Linkin Park, Common, The Crystal Method, and Cut Chemist, so if you are in the area, stop by The Key Club, The Roxy, or the Viper Room to see your favorite artists and check out what SanDisk has to offer.
Sandisk Unveils 8GB MicroSDHC and M2 Flash Memory Cards [via gearlog]