SanDisk Debuts Connect Wireless Flash Drive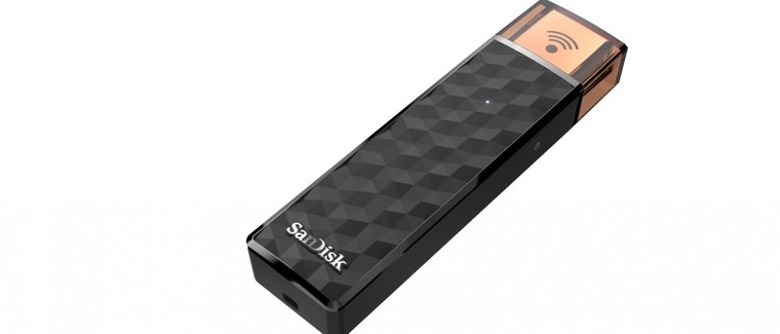 Flash memory accessory-maker SanDisk has just unveiled its new Connect Wireless Stick, a mobile flash drive that allows seamless file sharing between computers and mobile devices. SanDisk boasts that users can stream content like music and HD video to three mobile devices at a time, while a single charge will allow streaming to a single device for up to 4.5 hours. The SanDisk Connect Wireless Stick comes in capacities of 16GB, 32GB, 64GB, and 128GB, and pairs with accompanying apps for iOS and Android.
The flash drive connects with computers and devices over WiFi, and is compatible with 802.11 b/g/n 2.4Ghz. While there are already a decent number of wireless transfer solutions between PCs and laptops, the large amount of storage will be useful when content like pictures and video need to be moved from computer to phone or tablet. The drive does feature a USB plug on the end, so it can be connected to computers for transferring files, and presumably for charging as well.
With streaming functionality, mobile device don't need to eat up their limited storage space. Users can simply watch HD video or listen to music while it remains on the Connect Wireless Stick. The app is available for iOS and Android devices, as well as Amazon's Kindle Fire tablets. Users can expect the app to act as a basic file manager, along with options for auto-backup of photos and videos on the camera roll.
SanDisk says the Connect Wireless Stick will be priced from $30 to $100, depending on the storage size. It is available from retailers like Amazon and Best Buy starting now, as well as SanDisk's own online store.
SOURCE SanDisk