SanDisk 32GB microSDHC launches alongside DROID X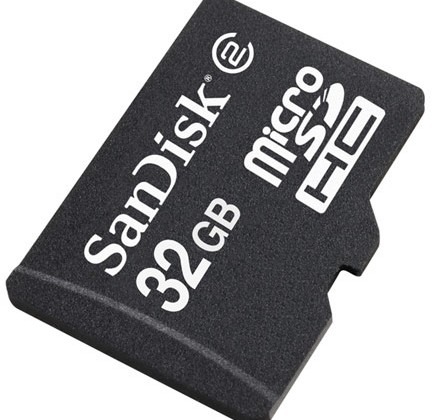 We've been waiting for SanDisk's capacious 32GB microSDHD card for some time, and the company has decided to launch it alongside the Motorola DROID X.  While the new Verizon smartphone will come with an 8GB microSD preloaded, the 32GB card will be available to buyers at a reduced price of $99.99; everyone else will be expected to shell out $149.99.
Of course, to save that fifty bucks you'll also need to pick up a $200 smartphone and commit to a two-year voice and data agreement, so it's not exactly the cheapest of ways to get frugal on your flash.  Still, 40GB – with the DROID X's integrated 8GB – in a smartphone isn't bad, especially when you consider the Android handset's HDMI out port and 720p HD video capabilities.
Press Release:
DROID X By Motorola Lands on the Verizon Wireless Network Tomorrow

Expandable Memory, Advanced Multimedia Features and Outstanding Call Quality: DROID X and 32GB SanDisk microSDHC™ Card Available Exclusively at Verizon Wireless

BASKING RIDGE, N.J., and LIBERTYVILLE, Ill., July 14 /PRNewswire/ — Verizon Wireless and Motorola, Inc. (NYSE: MOT) today announced that DROID X by Motorola will be available online and in Verizon Wireless Communications Stores tomorrow for $199.99 after a $100 mail-in rebate with a new two-year customer agreement.

DROID X by Motorola, the newest innovation on Android™ to run on Verizon Wireless' 3G network, does more with ultra high-speed Web browsing, an HD camcorder, 8 megapixel camera, 3G Mobile HotSpot capabilities, and enterprise features and outstanding call quality. DROID X also comes with loads of memory — 8 gigabyte (GB) onboard and a 16GB memory card. For customers seeking the ultimate in storage, the new 32GB SanDisk® microSDHC™ card allows customers to expand DROID X's memory to 40GB. Verizon Wireless is the only retailer that offers customers the 32GB SanDisk microSDHC card.

Customers can take advantage of the 4.3-inch high-resolution screen on DROID X for viewing the latest movies from BLOCKBUSTER On Demand® presented by V CAST Video. Additional features and specifications of DROID X by Motorola can be found at http://news.vzw.com/news/2010/06/pr2010-06-22.html.

Customers will receive the mail-in rebate in the form of a debit card; upon receipt, customers may use the card as cash anywhere debit cards are accepted. DROID X customers will need to subscribe to a Verizon Wireless Nationwide Talk plan (beginning at $39.99 monthly access) and an Email and Web for Smartphone plan (beginning at $29.99 for unlimited monthly access). Customers can add the optional 3G Mobile HotSpot service to their DROID X smartphones for $20 per month. The 32GB SanDisk microSDHC card is available tomorrow for $99.99 when purchased along with the new DROID X or for $149.99 when purchased separately. In addition, current Verizon Wireless customers who have contracts ending by Dec. 31, 2010, can upgrade to DROID X without penalty.

For additional information on Verizon Wireless products and services, visit a Verizon Wireless Communications Store, call 1-800-2 JOIN IN or go to www.verizonwireless.com.

About Verizon Wireless

Verizon Wireless operates the nation's most reliable and largest wireless voice and 3G data network, serving nearly 93 million customers. Headquartered in Basking Ridge, N.J., with 81,000 employees nationwide, Verizon Wireless is a joint venture of Verizon Communications (NYSE, Nasdaq: VZ) and Vodafone (LSE, Nasdaq: VOD). For more information, visit www.verizonwireless.com. To preview and request broadcast-quality video footage and high-resolution stills of Verizon Wireless operations, log on to the Verizon Wireless Multimedia Library at www.verizonwireless.com/multimedia.

About Motorola

Motorola is known around the world for innovation in communications and is focused on advancing the way the world connects. From broadband communications infrastructure, enterprise mobility and public safety solutions to mobile and wireless digital communication devices that provide compelling experiences, Motorola is leading the next wave of innovations that enable people, enterprises and governments to be more connected and more mobile. Motorola (NYSE: MOT) had sales of US $22 billion in 2009. For more information, please visit www.motorola.com.

Android Market, Android, Google, Gmail, Google Calendar are trademarks of Google Inc.

SanDisk and the SanDisk logo are trademarks of SanDisk Corporation, registered in the United States and other countries. microSDHC is a trademark of SD-3C LLC.