Samsung's unbreakable phone display: Watch the hammer hit it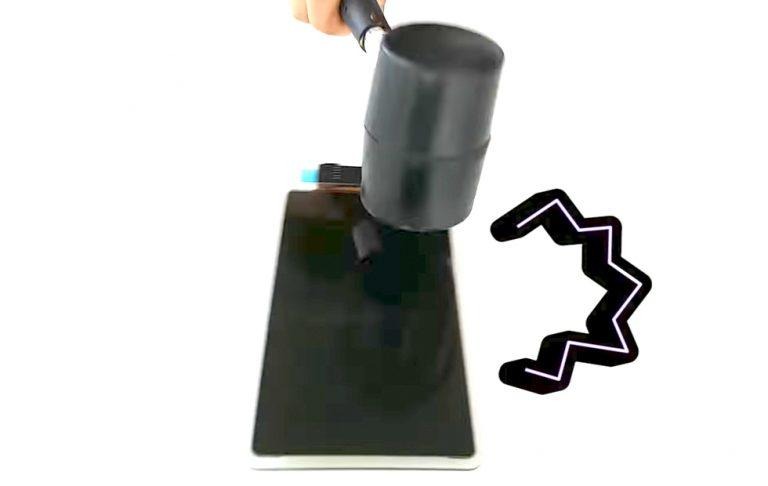 This morning the folks at Samsung Display announced the certification of their new "Unbreakable Panel" by Underwriters Laboratories. "The fortified plastic window is especially suitable for portable electronic devices not only because of its unbreakable characteristics," said Hojung Kim, general manager of the Communication Team, Samsung Display Company, "but also because of its lightweight, transmissivity and hardness, which are all very similar to glass."
This new sort of panel may well guide the future of high-end smartphones well into the future. If everyone else has breakable smartphone displays while Samsung's is neigh-impervious to pain, whose would you choose? Ask anyone you know what they value most in a smartphone and they'll most likely say the following: Battery life, camera, and the ability to take a tumble without exploding into fragments of glass. That's not always easy.
SEE TOO: Samsung Displays could "bounce off water" in the future
This flexible OLED panel was developed with "an unbreakable substrate" with an overlay window on top. Samsung suggested that their overlay window is flexible as well, and resistant to damage. This is a "fortified plastic window" that's unlike what's provided by the few other flexible display products on the market today, which generally have standard glass coverings – which are inevitably brittle and breakable.
How unbreakable is it?
According to a Samsung representative, this panel worked with rigorous real-time durability testing "based on military standards set by the U.S. Department of Defense. That means it's no slouch.
"After a drop test administered at 1.2 meters (nearly 4 feet) above the ground 26 times in succession, and accompanying high (71 degrees) and low (-32 degrees) temperature tests, the Samsung unbreakable panel continued to function normally with no damage to its front, sides or edges," said Samsung Device Solutions Americas representative John E Lucas. "Even in a subsequent 1.8M (nearly 6 feet) drop test – significantly higher than the U.S. military standard – Samsung Display's unbreakable panel operated normally with no sign of damage."
OF NOTE: The above test isn't exactly scientifically lab-test perfect. They're hitting the display panel with a rubber hammer on a flat surface. That's not to say that the display panel isn't really robust, but this is a test that's far from perfect.
Samsung suggested this week that the panel could potentially be used on more than just smartphones. The display will certainly roll with smartphones, but Samsung said that it'll like "find viable markets with other electronics products" like automobile consoles, "portable game consoles," tablet PCs, and "mobile military devices." Cross your fingers we get that mobile military device and portable game console in the same product – you never know!