Samsung's SXSW C-Lab showcase: Hum On!, Waffle, Entrim 4D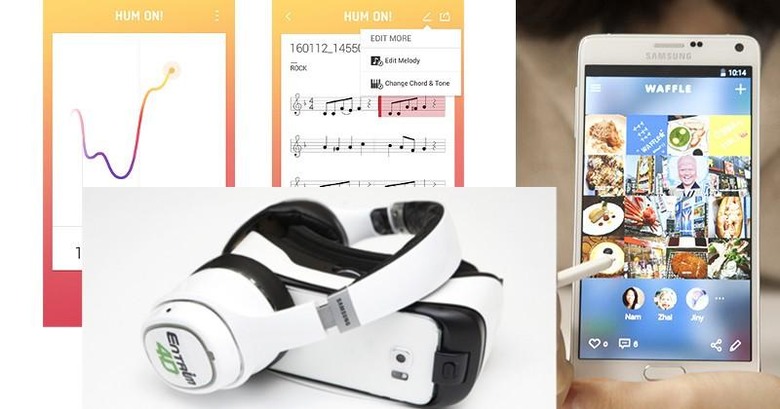 We may receive a commission on purchases made from links.
At the beginning of the year, Samsung showed off a few of its employees' experimental products at CES 2016 under the company's Creative Lab, or C-Lab, program. That included a smart belt, a smart wristband, and a virtual reality "handle bar" controller. At SXSW, the company revealed a few more ideas that, if turned into actual products, could be pretty interesting. For example, the Hum On! app can turn any hum or voiced tones into a musical piece. Waffle makes social networking an even more social and collaborative process, while Entrim 4D gives VR users a sense motion delivered through their ears.
Hum On! might sound simplistic, but it is the simple things that actually seem more magical as well. Ever had that tune in your head that you couldn't quite identify, or just wanted to share a "composition" with your musically inclined friend? If so, this app has you covered. Think of it as "hum recognition" technology, identifying the pitch of your self-made music and turning them into notes. In addition, you can edit, remix, and play the piece back in different styles, ranging from R&B to Rock to even a full Orchestra.
Despite the social nature of, well, social networking sites, posting to those is pretty much a one-man, or woman, task. Waffle tries to make social networking a collaborative experience, where a friend can add content to another friend's post. Sort of like the waffle it's named after, the app presents a grid where a social circle can continually add images according a theme. Want to let your whole gang greet a single person easily? They can each add a greeting, a snapshot, or whatever (appropriate) image they like to the grid.
Just in time for the VR hype train, Samsung's C-Lab is revealing Entrim 4D, headphones that not only let you hear the sounds of VR, it lets you also feel them, almost literally. The device makes it possible through the use of Galvanic Vestibular Simulation or GVS. In theory, electrical signals sent to a nerve in the ear, specifically the nerve regulating motion and balance, can trick your brain into actually feeling the motion as if you're really there. Entrim 4D aims to address two problems in VR sitting on polar opposites of the motion spectrum, "feeling" too much motion to the point of motion sickness and feeling no motion at all.
These are pretty much experiments, so the possibility of turning them into consumer products is still up in the air. There are, however, already working prototypes that are on display at SXSW 2016 in Texas until March 16.
SOURCE: Samsung