Samsung's P3 ready to battle the iPod Touch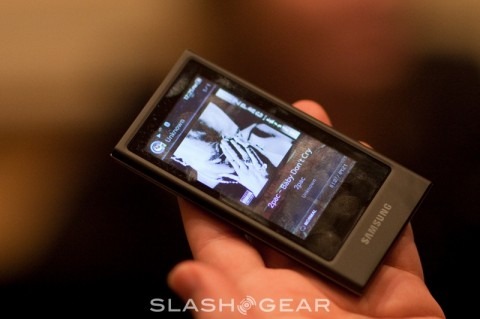 Samsung is showing off its new touchscreen media player, the P3.  From the looks of it, the P3 seems to be positioning itself as a challenger to the iPod Touch.  Of course, offering the same features won't be enough to knock Apple down from the top – they need something unique, and they just might have it.  We'll have more for you after the jump.
The Samsung P3 has a 3-inch WQVGA-TFT-LCD touchscreen that can display in portrait as well as 16:9 widescreen.  It's 0.39 inches thick – a pretty skinny device.  It plays your music, media and, if that screenshot is any indication, it'll have applications and games.  Sound familiar?  Right – it sounds a lot like the iPod Touch.  Fortunately, Samsung wisely added a unique feature.
What's that feature, you ask?  Samsung is equipping the P3 with Bluetooth capability.  Why?  Well, for starters, you can pair the device with your Bluetooth-enabled phone, which then allows you to use the P3 to receive phone calls – you use your headphones and the built-in mic to talk.  Bluetooth also opens the possibility for wireless headphones and other wireless accessories in the future.
The P3 will debut sometime around July for an undetermined price.  It'll come in a few different models – 4 GB, 8 GB, 16 GB and 32 GB.