Samsung's next Gear VR includes a controller, faces off with Daydream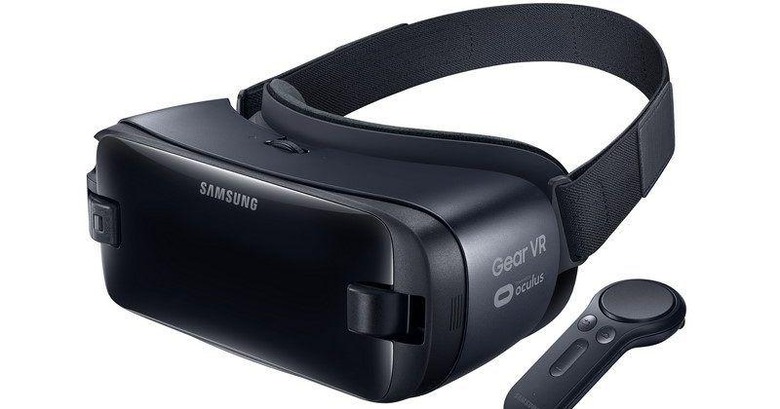 Shortly before MWC 2017 began, we heard a rumor that claimed the next Gear VR from Samsung would ship with a controller. While the initial expectation may have been to see Samsung announce this new iteration of the Gear VR alongside the Galaxy S8, the company has wasted no time, revealing it today at MWC 2017 instead. It turns out those rumors were right, and the next Gear VR will include a controller.
This puts the Gear VR in a better position to compete with Daydream View, Google's own VR headset for Android. Like the Daydream View, the new Gear VR's controller will be a one-handed device and features a touchpad at the top. This means that you no longer have to use the Gear VR's built-in controls on the side of the headset for navigation, which will probably be a welcome change for many Gear VR users.
In addition to that touchpad, the controller also sports home, volume, and back buttons, along with a wrist strap to keep it from flying across the room when you're playing VR games. Samsung says that the new Gear VR will have 42mm lenses and a 101-degree field of view, so not much is changing in that regard. In fact, the biggest addition is unquestionably the controller, and if you don't want that, it sounds like you can get away with continuing to use your current Gear VR headset.
Like previous releases, the Gear VR with Controller (which is its official name) will be compatible with all major Samsung flagships dating back to the Galaxy S6. It'll presumably be compatible with the Galaxy S8, though obviously there's no mention of that phone in Samsung's announcement. The company does say that it'll be compatible with USB-C devices through an in-box converter, which essentially confirms that it'll work with the Galaxy S8.
There's no talk of pricing or availability just yet, and while the controller may force Samsung to raise the price, it's most likely that we'll see it launch at the same $99 price point of its predecessors. Just as well, we'll probably see this new Gear VR launch alongside the Galaxy S8, so if we were to take a guess, we'd say we'll probably hear more when Samsung officially reveals the phone next month. Stay tuned, and be sure to check out all of our coverage from MWC 2017!