Samsung's new foldable phone may be closer than we thought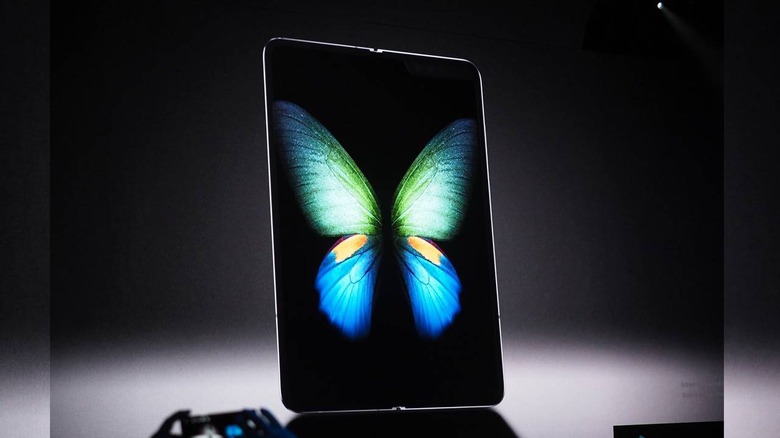 Many of us are expecting a follow-up to the Galaxy Fold at some point next year, and a new report today is claiming that it may only be a couple of months before that follow-up is out in the open. That's somewhat surprising considering that the Galaxy Fold only made it to store shelves in September, but with this new foldable phone rumored to go in a completely different direction in terms of design, that may justify the short period of time between releases.Yonhap News Agency reports today that Samsung may release its next foldable phone as early as February 2020, so it could be here in just a couple of months. The report also claims that the phone will have a clamshell design in contrast to the Galaxy Fold's book-like design.
That second part about the clamshell fold is something that's already been corroborated by leaks of the purported phone. Earlier this month, images of a phone said to be the Galaxy Fold 2 were published to Weibo; in those images, we see the phone clearly has a clamshell design that makes for a nearly square device when it's all folded up.
Yonhap said that it spoke to unnamed industry sources in gathering this information, which claim that Samsung is already in talks with South Korea's three major mobile carriers to hammer out a release date. Apparently, Samsung will reveal the folding phone at its Unpacked event in February, where it's also expected to reveal the Galaxy S11 (which might be known as the Galaxy S20 if recent rumors are accurate).
Unlike the Galaxy S11, though, there won't be a delay between reveal and launch, as Samsung will announce the new foldable for immediate release. Yonhap also suggests that this phone won't be the Galaxy Fold 2, as that will be released in late 2020. As always, you should take unconfirmed rumors with a grain of salt, but if this report is accurate, we may have Samsung's next foldable phone in our hands by the end of February.