Galaxy Fold 2 Leaked Photos Don't Hold Much Hope For A Hideaway Hinge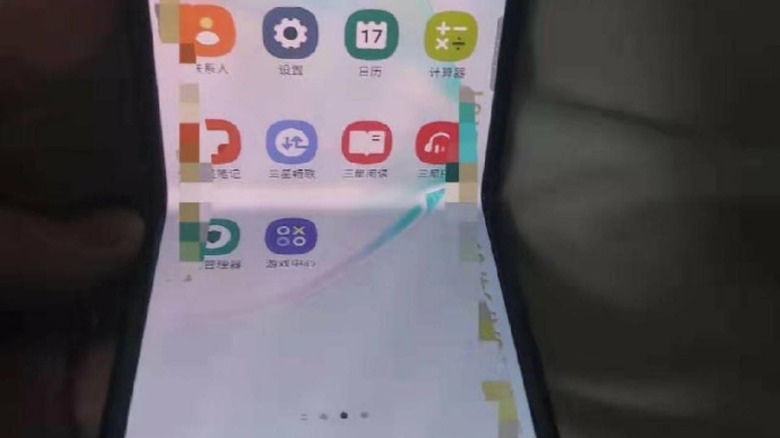 Samsung hasn't given up on foldable phones despite the embarrassment it garnered from the first Galaxy Fold. In fact, it plans to launch even more foldable devices in the next two years, which suggests it has a strategy in place to make those phones more accessible. One such strategy might be to launch a smaller foldable, one that folds down like a clamshell ala the new Motorola Razr. Photos of such a device just surfaced but they don't look encouraging as far as design improvements go.
The hinge on the first Galaxy Fold, which opened and closed more like a book, wasn't really much of a problem but Samsung seems to consider it to be one. A recent trademark filing suggested that it was trying to make the hinge look less conspicuous compared to the larger Galaxy Fold. An example of how that would look like is on the Motorola Razr 2019, which does have an obvious three-part hinge.
The photos that have suddenly popped up on Weibo are admittedly a bit inconclusive but there's nothing inconspicuous about its hinge. You can still see part of it jut out when completely folded and it's something that might not be easily solvable given current manufacturing technologies and materials.
The photos also show one actual problem with foldable screens. There is still a very notable crease in the middle though it is admittedly not that obvious from certain angles. Samsung is reportedly switching to ultra-thin glass which will supposedly fix both creasing and fragility problems.
The leak does have one good detail, the lack of a large screen on the "outside" of the phone. Only a small strip can be seen at the bottom, useful for looking at the time and checking for the presence of notifications. Considering a flip phone could be opened more easily and operated with one hand, a smaller but full screen on its back may no longer be needed at all.