Samsung's new 30.72TB SSD is breaking all the records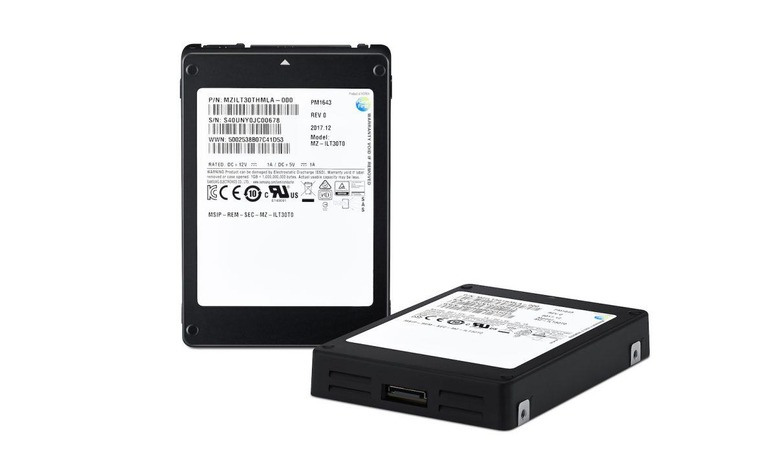 Samsung has outed its latest SSD, the PM1643, with a whopping 30.72 terabytes (TB) of solid-state storage. The record-breaking drive is the industry's largest SAS SSD; indeed, even its 40 GB of DRAM alone is more flash than some smartphones and tablets are shipping with in storage today.
Of course, the drive isn't intended for consumers. Instead, Samsung expects it to be a hit among enterprise customers, wanting to pack as much memory – and fast memory, at that – into as small a footprint as possible. To do that Samsung used its V-NAND technology and 64-layer 3-bit 512-gigabit (Gb) chips.
In doing so, it combined sixteen stacked layers of those 512 Gb chips into 1TB NAND flash packages. 32 of those were then combined into each 2.5-inch SSD. It's enough, Samsung points out, to store around 5,700 movies at Full HD resolution on a single drive.
Raw quantities of storage, mind, isn't the only consideration. After all, if the drive's transfer speeds were slow, actually getting all that data on or off the SSD would be a nightmare. Happily, Samsung says the PM1643 is setting company records there too, with performance levels nearly twice that of its previous generation high-capacity SAS SSD.
Connected to an appropriate 12 Gb/s SAS interface, Samsung says, the new drive will do random read speeds of up to 400,000 IOPS and write speeds of up to 50,000 IOPS. Sequential read rates are up to 2,100 MB/s, while sequential write rates are up to 1,700 MB/s. In total, Samsung points out, that's approximately four times the random read performance, and three times the sequential read performance, of a typical 2.5-inch SATA SSD.
It's courtesy not only of fast NAND memory but a new controller. More accurately, nine controllers from the previous SSD range integrated into a single package. Through Silicon Via (TSV) technology is used to interconnect 8 Gb DDR4 chips into ten TSV DRAM packages each totaling 4 GB. That means 40 GB of DRAM in all.
Finally, there's the software. That's designed to give better data retention and recovery rates after sudden power failures, and an error correction code (ECC) algorithm for less storage maintenance. Samsung says buyers can expect an endurance level of one full drive write per day (DWPD), or 30,72 TB of data every day over the length of the PM1643's five year warranty. Mean time between failures is two million hours.
Production of the 30.72 TB SSD kicked off last month, though Samsung plans to add to the family later in 2018. That'll include 15.36 TB, 7.68 TB, 3.84 TB, 1.92 TB, 960 GB, and 800 GB versions.