As of today, Gamescom is officially in full swing, and Samsung showed up to the event with a few different monitors in tow. One such monitor is the CJG5, a curved monitor that comes in two varieties: 27-inch and 32-inch. Obviously, with a debut at Gamescom, these monitors are meant for PC gaming, and they come with features that many gamers are looking for.
More specifically, both CJG5 variants offer a 144Hz refresh rate, which is something that has grown in popularity among PC gamers over the past few years. We'll also see a response time of 4ms, and while that may not go as low as some higher-end gaming monitors, it's still pretty solid for the purposes of gaming.
The CJG5 outputs at a max resolution of 2,560 x 1,440 and has an aspect ratio of 16:09, so if you're looking for something a little better than your bog-standard 1080p monitor, this might be one to consider. Samsung, being the mortal enemy of bezels that it is, has gone with a three-sided bezel-less design on this monitor, which it claims will help immersion while you're playing.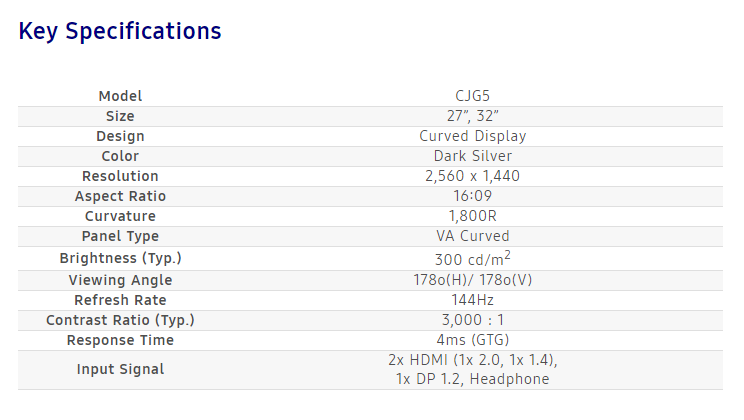 Finally, we can look forward to an 1,800R curvature and a contrast ratio of 3,000:1 with these monitors. All in all, they sound like decent gaming monitors as long as you're not looking to run games in 4K, but as always, price is going to be the deciding factor for most people. Even though Samsung said in today's announcement that these monitors will have a "reasonable and affordable price," it didn't get into specifics.
We'll likely find out more as we get closer to release, which is currently scheduled to happen sometime in the third quarter of 2018. That means they should be here soon, though we're left waiting on Samsung for more. Hopefully additional details come around the bend before long, so stay tuned.