Samsung has announced a new addition to its tablet lineup, today revealing a Galaxy Tab A refresh for 2019. The latest 8-inch Galaxy Tab received a no-nonsense reveal from Samsung today, with this clearly being a budget tablet with budget specifications. Because of that, it's hard to imagine this tablet finding a large audience among Samsung's core group of users.
Samsung seems to be targeting the Galaxy Tab A as something of a compact media player, though the tablet's display resolution leaves quite a bit to be desired in that regard. The 8-inch TFT display outputs at a resolution of 1280×800, which probably won't be enough for most people in this age of high-resolution phones.
Still, with a 5,100mAh battery at its core, that low resolution display could definitely have its benefits. Samsung doesn't give us any idea of how long that battery might last with typical usage, but it does say that the battery plus the display "enhances your video experience." It seems that even Samsung is having a hard time getting excited about the Galaxy Tab A.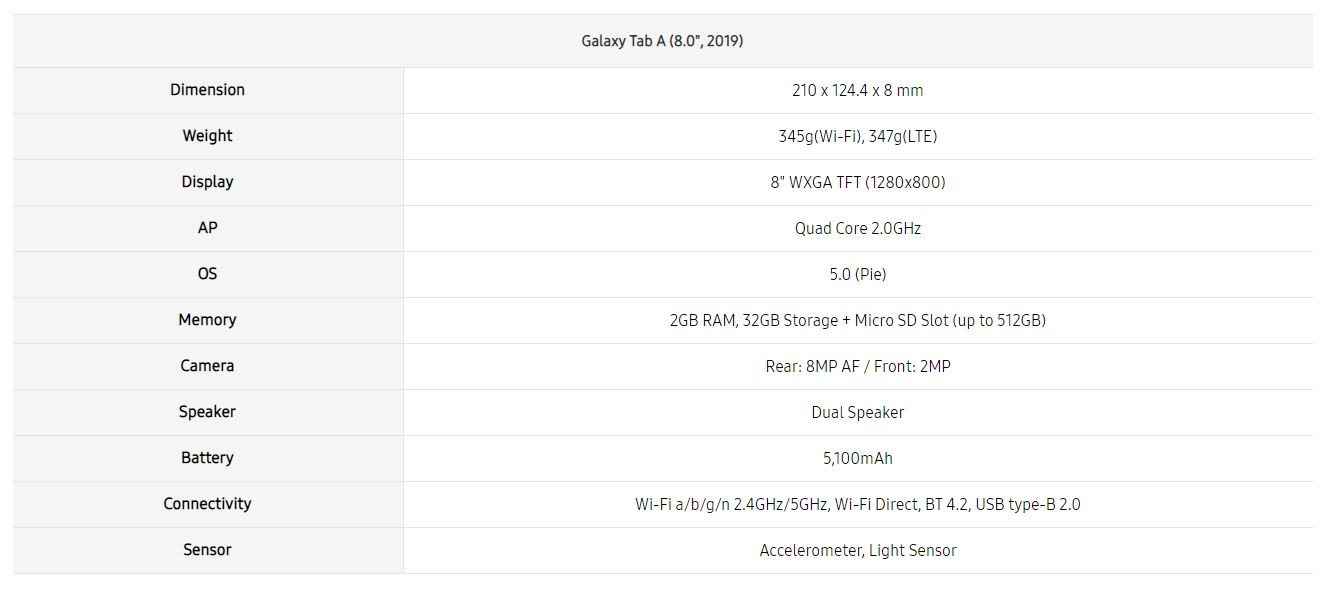 The Galaxy Tab A is powered by a nondescript quad core processor clocked at 2.0GHz, which is paired with 2GB of RAM. The tablet also has 32GB of internal storage, but the presence of a microSD slot means you can expand that by as much as 512GB if you wish. Samsung will offer the Galaxy Tab A in both WiFi and LTE models, though as of today's announcement, there's nothing official about pricing or release date yet.
Perhaps as a carrot on a stick to tempt those who only feel indifference when looking at the specifications listed above, Samsung is also including two months of YouTube Premium and three months of Spotify Premium with each Galaxy Tab A purchase. We'll keep our eyes peeled for more information about the Galaxy Tab A's price and release date, so stay tuned for that.