Samsung's First BGA SSD Boasts 1500 MB/s Speeds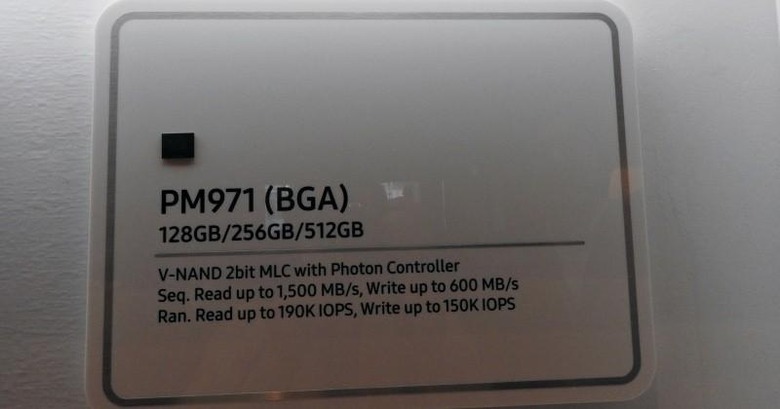 Our mobile devices, both smartphones and tablets, are getting more capable. Processors are more powerful, displays are higher resolution, RAM memory is getting faster. These days, the bottleneck falls on the internal storage that hosts the files and programs that give life to these devices. The race for smaller but denser storage solutions is on, and leaders in the industry have been showing off their wares in a steady flow of new or update technologies. At the 2016 Samsung SSD Forum Japan, Samsung showed off its own solution: its first ever BGA-based SSD chip.
BGA, short for ball grid array, isn't exactly new but comparatively less used than its PGA (pin grid array) counterpart. Whereas the traditional PGA used pins, hence the name, to connect to circuit boards, BGA would use balls of solder lead to attach to those boards. While it has the disadvantage of being permanently soldered to those boards, the technique offers notable advantages as well. Unlike with pins, the grid of balls can practically cover the entire bottom of a surface instead of just the perimeter, increasing the density of connections a single chip can provide.
In the context of flash memory, that translates to more capacity to store data on a single chip. Intel has long been singing the praises of BGA as the next gen storage solution especially for mobile devices. BGA SSDs can be substantially smaller than a conventional M.2 SSD of the same capacity. This would allow OEMs to, for example, cram more battery in the space previously occupied by the SSD. For example, the PM971 BGA SSD that Samsung showed was reportedly even smaller than a microSD card.
Samsung is coy about the details of the SSD but it does reveal some juicy bits. The PM971 uses Samsung's much touted MLC V-NAND flash memory, sadly 2-bit and not the newer and fancier 3-bit it announced in the 850 EVO last year. In fact, the PM971 might be closer to the 750 EVO instead, sharing the same Photon controller. The SSD chip is advertised to be capable of sequential read speeds of 1,500 MB/s and sequential writes of 600 MB/s. Random accessed is marked at 190,000 and 150,000 IOPS (input/output operations per second) for read and write, respectively.
Samsung plans on offering this new type of storage for tablets and 2-in-1 PCs. It expects that it will make its way to OEMs by the second half of 2016 or early 2017 at the latest.
VIA: AnandTech