Samsung's 256GB memory chips ready to roll into smartphones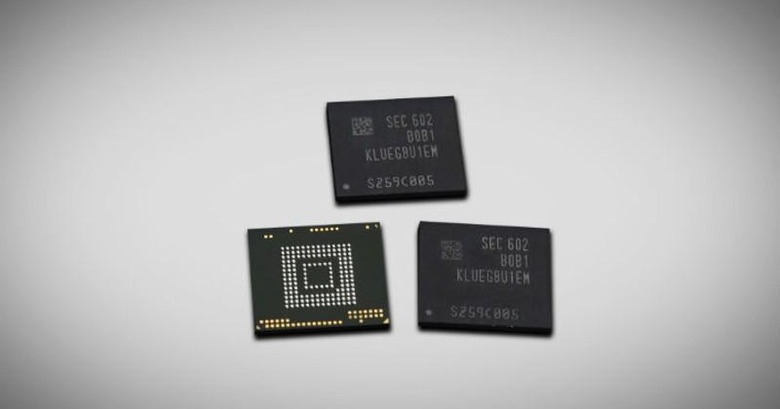 We may receive a commission on purchases made from links.
Many people are wont to say how smartphones these days are nearly as powerful as our computers. Well, Samsung has just added another notch to that checklist. It has just announced that it started the mass production of its newest, fastest, and biggest UFS 2.0 embedded memory, able to reach 256 GB in capacity. The ridiculously biggest size we're seeing on a single chip for a smartphone, the storage also boasts of sequential reading and writing speeds that Samsung claims is twice, even thrice, faster than a SATA-based SSD for PCs.
The raw numbers are as follows. Complying with the Universal Flash Storage 2.0 spec, the chip is able to perform 45,000 and 40,000 input/output operations for second, also known as IOPS. That's more than double the previous UFS standard that is still used on many smartphones, even some recent flagships. But more than that, the 256 GB UFS 2.0 storage can do sequential reads of 850 MB/s and sequential writes of up to 260 MB/s, thanks to a two-lane data transfer method. That, Samsung boasts, is substantial faster than those SATA SSDs.
Those speeds, not to mention the storage capacity, will be critical for the future of high end smartphones, which are increasingly becoming more capable when it comes to multimedia, both in playback and creation. The fast read speeds will be important for cameras recording 4K videos while the read operations will be critical for playing those 2K and 4K videos, even while multitasking.
Curiously, Samsung makes a note of how its memory chip is smaller, faster, and has more capacity than a microSD card, perhaps hinting at how the OEM plans to eventually phase out that feature in its smartphones again. Production of the 256 GB UFS 2.0 memory chip obviously did not make it in time for the Galaxy S7 and Galaxy S7 edge, so we'll have to wait for the Galaxy Note 6 to see it in action. That 256 GB configuration might also do nicely with a rumored 6 GB of RAM.
SOURCE: Samsung