Samsung/PayPal May Battle Apple Watch/Apple Pay In 2015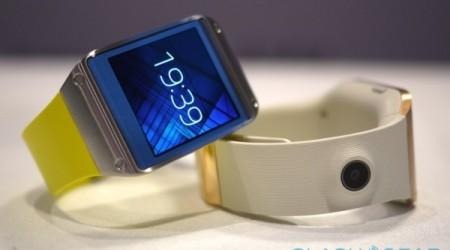 Samsung has a lot of wearables on offer, and a good number of them are smartwatches. Like any other smartwatch, theirs primarily serve as a notification center on the wrist. Now that Apple Watch is out, Samsung may be following suit with a new wearable tied directly to mobile payments.
This news comes via Business Korea, which is naturally citing an unnamed source. This source is held out as a Samsung representative, but there is nothing known beyond that. The smartwatch itself has some interesting angles of attack, though.
Rather than create and manage their own payment solution like Apple has, Samsung is said to be working with PayPal. This PayPal partnership is set to debut on a new smartwatch early next year.
The smartwatch is rumored to rely on Samsung's fingerprint scanning tech, which will somehow make a home on the wrist-worn device. The fingerprint scanner is leaning on Synaptics for biometric verification, according to the source.
It's not known what operating system this smartwatch would run, though. Business Korea only notes it as the "third generation" of Samsung's smartwatch. Samsung may choose to be very Apple-like and run Tizen, which ultimately ties this payment system to their users, or Android Wear, which would open it up to the masses.
Source: Business Korea