Samsung Zipel WiFi Refrigerator Packs DLNA Streaming & Google Calendar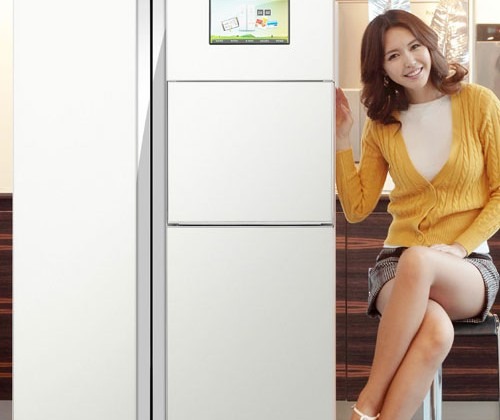 Think back to January and you might recall Samsung clearing WiFi certification with a refrigerator bearing a built-in digital photo frame.  Snap forward to today, and witness the awesome white-goods power of the Samsung Zipel SRT746AWTN, a double-door fridge with an integrated 10-inch touchscreen.
With that touchscreen – and the Zipel's WiFi b/g support – you can browse the internet, stream media via DLNA, take notes and even pull up nutritional information for more than 500 different types of food.  It'll also show Google Calendar entries and weather reports, again with internet updates, as well as news alerts and other articles.  Slap in a memory card (no telling what type) or hook up some sort of wireless storage and the Samsung Zipel can show a slideshow of your favorite photos, which is frankly much better than sticking on rubbish painted pasta pictures that your offspring comes home with and expects you to fawn over.
Unfortunately, this sort of 21st century magic doesn't come cheap.  Samsung will be launching the Zipel refrigerator in South Korea with a 2.49 million won price tag ($2,182) which makes for a darned expensive way of looking at pictures and keeping your paté chilled.  You could, of course, recreate your own version by sticking a WiFi photo frame or iPad to the front of your existing fridge, though we doubt you'd get a happy Korean lady to come and sit next to such a style travesty.
[via Tech Ticker]