Samsung Windows 8 pre-orders start with wave of new-age PCs and tablets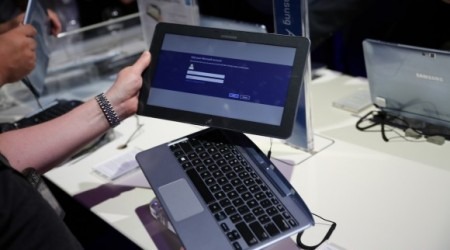 Earlier this morning, Samsung announced a slew of Windows 8 PCs and tablets, including the Series 5 Ultra Touch Ultrabook, a line of ATIV Smart PCs, and few Series Premium Ultrabooks. All of these devices will be released on October 26th — the day that Windows 8 is officially launching. And now, they're available for pre-order.Samsung's ATIV lineup includes a set of two convertible tablet/laptops, the 500T and the 700T. The 500T runs on an Intel Atom Z2760 processor with 2GB of RAM and 64GB of internal storage. It costs $649.99 with the keyboard add-on costing an extra $100. The 700T is bit more powerful, running a Core i5 chip with 4GB of RAM and 128GB of storage, costing $1,199.
Samsung's also announced several Premium Ultrabooks ranging in different sizes and speeds. The company's Series 9 Ultrabook will start at $1,300 for the 13-inch model, and the 15-inch model wil be just a $100 more. The Series 7 15-inch Ultrabook is priced at $1,100, while the Series 5 13-inch Ultra Touch will start at $810 for a Core i3 processor.
The Series 3 will be Samsung's budget offering, which has a price range of $450 to $900 depending on the configuration. The company also announced two Series 7 all-in-one machines that will cost $1,100 for the 23-inch model and $1,700 for the 27-inch. Their lower-tier 21.5-inch Series 5 all-in-one will be priced at $800.