Samsung Wave S8500 hits Vodafone UK June 1st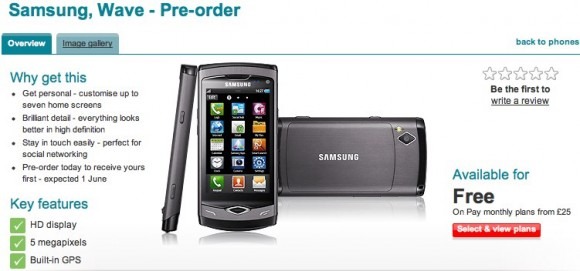 Vodafone UK have thrown their hat into the bada ring and announced that they are taking preorders for the Samsung Wave S8500.  Priced from free on a new contract, the Wave S8500 will arrive on June 1st 2010 complete with a 3.3-inch Super AMOLED capacitive touchscreen, 5-megapixel autofocus camera and a 1GHz processor.
Samsung are pushing bada as their new "smartphone for the common man" platform, which means you get an app store together with all the expected social networking integration from a smartphone, but a more affordable price.  We grabbed some hands-on time with the Wave S8500 back at MWC 2010 and, despite our initial skepticism about bada's positioning, came away impressed by the handset itself.
The Wave S8500 will be free on new Vodafone contracts priced £25 per month or above, assuming you're willing to sign up for two years.
Samsung Wave S8500 hands-on:
Press Release:
Vodafone UK Opens Pre-Order for Samsung Wave

New bada platform set to land on the UK's best network

Vodafone UK customers can now pre-order the stunning Samsung Wave, the first handset to run on the new bada software platform, and Samsung's next generation, ultra responsive touchscreen smartphone.

The Samsung Wave will be available for free on a £25, 24 month price plan, including 300 minutes, unlimited texts and 500MB of mobile data. The new device is the latest addition to a great range of smartphones available to Vodafone customers, including the Google Nexus One, HTC Desire, Apple iPhone and the Sony Ericsson X10.

The Samsung Wave features an incredible stunning 3.3" Super AMOLED screen, and uses Samsung's HD TV technology to deliver crisp, rich images in the palm of your hand. And all of this functionality is delivered by a speedy 1GHz processor to give you a seamless experience.

Through bada, the Samsung Wave offers great customisable features to allow you to adapt the phone to suit your requirements. Using the TouchWiz feature, for example, you can personalise multiple home screens with your favourite shortcuts and menus to get quicker access to the things you need most. You can also access Samsung Apps, the dedicated bada app store, giving you even more opportunities to customise your handset.

Use the Social Hub to integrate SMS, IM and your favourite social networks into on place, bringing you and your friends even closer. In addition, bada supports a huge variety of features, such as Flash and in-app purchasing, to make the Samsung Wave both versatile and great fun to use.

Customers purchasing the Samsung Wave on Vodafone will also receive a voucher for a free Vodafone McLaren Mercedes rucksack, which they can redeem online.

For more information and to order the device ahead of its launch on 1 June, click here: http://shop.vodafone.co.uk/shop/mobile-phone/samsung-wave