Samsung Wave 723 tries bada on mainstream hardware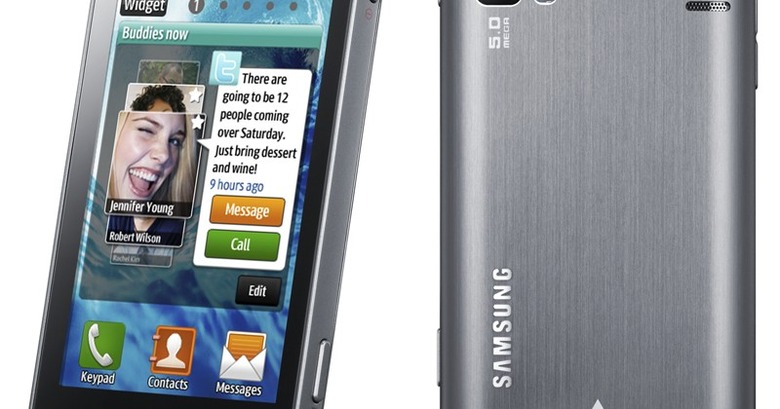 We can't say we were overwhelmingly convinced with Samsung's bada smartphone OS back when we reviewed the Wave S8500, the handset's high-end specs doing most of the wowing, so we'll be interested to see how a more affordable model fares.  Samsung has just outed the Wave 723 (GT-S7320E), apparently intended to further "democritize" the smartphone market, with a 3.2-inch WQVGA LCD display, 5-megapixel camera and dualband UMTS/HSPA.
There's also Bluetooth 3.0, WiFi b/g/n and A-GPS, together with 90MB of internal storage and a microSD card slot.  Unfortunately there isn't the same high-end A/V codec support as we've seen on other recent Samsung handsets; the Wave 723 makes do with MPEG4, H.263 and H.264, eschewing DivX and Xvid.
Still, it's a more entry-level step into bada ownership, if that's something you really want, together with the fledgling bada application store.  No word on pricing, but Samsung says the Wave 723 will arrive in Germany next month, followed by broader European availability, Asia and Africa.
Press Release:
Samsung Takes Brilliant Next Step in Democratization of Smart Phone Market, with Launch of the Wave 723

SEOUL, Korea – August 30, 2010 – Samsung Electronics Co. Ltd., a leading mobile phone provider, today announced the launch of the Wave 723 (Model : GT-S7320E), the newest smart phone based on its open smart phone platform, Samsung bada. The device reinforces Samsung's commitment to democratizing the smart phone market and enabling access for all. Through the launch of the Wave 723, Samsung will deliver a remarkable smart phone experience to a broader demographic of users.

The Wave 723 combines a crystal clear 3.2-inch TFT-LCD display with an application-centric interface that allows users to seamlessly and directly access applications that support their daily needs and lifestyles. The Social Hub feature helps you stay organized while staying connected with friends and family everywhere, anytime. These features are enhanced by the latest Wi-Fi technology that delivers faster download speeds and gives users access from greater distances.

The smart phone is ideal for people who are on the move and excited to share their lives using Samsung's most efficient and intelligent mobile technology. It has been designed to deliver the highest performance and quality to so that users can take full advantage of all aspects of the online experience from their mobile phone. The Wave 723 will be available starting in September 2010 in Germany and will be gradually rolled out to other European markets including Southeast Asia, the Middle East Asia, and Africa.

"The Wave 723 reflects our relentless pursuit of the best in mobile technologies by optimizing the application and social media experience. In new and innovative ways, the Wave 723 delivers on Samsung's goal to give a rich, connected smart phone experience to everyone," said JK Shin, President and Head of the Mobile Communications Business, Samsung Electronics.

The Wave 723 has been designed to open the door to an expanded and rich application environment giving users access to applications that will help them to enhance and organize their lives. The Wave 723 offers easy and direct access to the Samsung Apps store for browsing, purchasing and downloading of free and premium apps. Featuring a wealth of games, navigation, social networking, e-book, health and lifestyle applications, Samsung Apps allows the Samsung Wave 723 to be a true lifestyle assistant with localized services that specific and dedicated to individual lifestyles.

The bada platform is at the core of Samsung's application-centric vision and allows for the open development of apps of all kinds. Wave 723 is developed based on the bada SDK 1.1. The SDK 1.1 has Auto-UI scaling feature where application developers can reproduce applications to work on Wave 723 from already developed bada Application on Wave with minimum effort. With this feature, more rich applications can be delivered to users in advance.

Equipped with the latest Wi-Fi (802.11 b/g/n), the Wave 723 lets users take advantage of download speeds while reaching networks at greater distances. It has an easy and simplified downloading process so you can get apps to your phone faster than ever. This means users can take full advantage of the application-centric nature of the Wave 723 without having to wait for the applications to download.

The Wave 723 has also been designed to not just be powerful in performance but beautiful to look at. It measures a thin 11.8mm with a metallic back cover, making the Wave 723 sleek and modern, while at the same time reflecting the mobile's technological prowess. Its new leather flip cover offers protection to the mobile as well as a sophisticated flair. Its natural-material is the perfect contrast to the mobile's metal chassis showing that a handset can combine balance and beauty.