Samsung W2018 flip phone packs a dual-aperture camera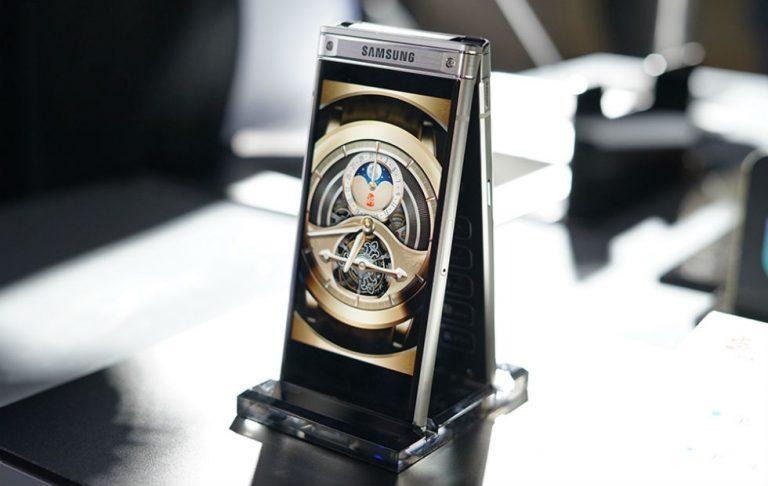 Samsung has unveiled a fancy new flip phone (yes, a flip phone) with a design unlike what you're probably imagining. The W2018, which was unveiled in China recently, is a dual-display flip phone that takes modern handset elements and packs them into the clamshell arrangement that was popular for so many years. Unlike those old flip phones, though, the W2018 has two screens, a dual-aperture camera, and other crazy features.
While flip phones are still available in the US and other places, they tend to be very inexpensive and offer very few features, targeting the small group of people who for whatever reason want a simple mobile phone. High-end flip phones are popular in some countries, though, and that's where the Samsung W2018 comes in.
Samsung packed two displays into this phone, an inner 4.2in Full HD display and an exterior 4.2in Super AMOLED Full HD display with Gorilla Glass 5. This means owners can use the W2018 as something of a smartphone and as a flip phone, truly offering the best of both worlds.
Special attention was paid to the W2018's camera, which is able to toggle between both an astounding f/1.5 aperture (12MP resolution), which means users can expect great low-light images. When in brighter settings, though, the W2018's rear camera can switch to an f/2.4 aperture. This bizarre (and welcomed) ability is joined by Optical Image Stabilization. You can see a video of the aperture switching here.
Other notable features include a fingerprint sensor on the back panel near the camera, a dedicated Bixby button as seen on the Galaxy S8 phones, the use of USB-C, Android Nougat, and both 64GB and 256GB storage options. The phone packs a Snapdragon 835, 6GB of RAM, and a 2300mAh battery.
If you're thinking it's time to return to the world of flip phones, prepare to be disappointed: the Samsung W2018 will only be available in China, price unknown.
SOURCE: Gizmo China, Sina Tech