Samsung W20 5G could be the foldable clamshell you can't get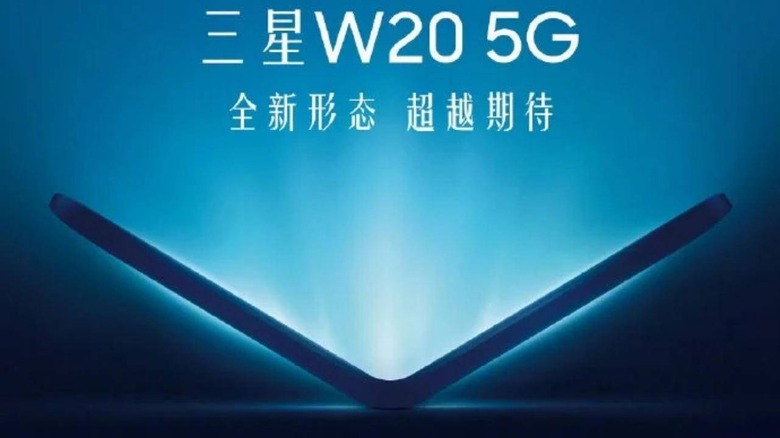 It might not be common knowledge outside of China and Korea but Samsung is one of the last few phone manufacturers that still makes flip phones, a.k.a. clamshell phones. These phones aren't made available outside of those two markets, which is why few know about them. It's next one, however, could actually make headlines if recent speculation is on the mark. According to those, a so-called W20 5G, probably the SM-W2020, might not only be a flip phone but also one with a foldable screen.
Samsung already more or less confirmed at its annual developers' conference last week that its next foldable phone would have a clamshell form factor. This would contrast with the current Galaxy Fold that can be best described as a book-like design. While that emphasized offering a larger screen, the foldable clamshell will be putting the focus on portability and pocket-ability.
Samsung just released a teaser for a certain W20 5G clamshell phone and it's rather ambiguous as to what it really is. The silhouette of the phone doesn't show any regular hinge for flip phones, suggesting that it could have one continuous body. That said, it also doesn't have the telltale signs of Samsung's hinge for the Galaxy Fold either.
SamMobile is equally unsure considering the unofficial details it received about the phone For one, it doesn't seem to be called a Galaxy Fold and is described as a "folder", the company's usual name for its clamshells. The parts list it also got a hold of doesn't mention that special hinge found on the Galaxy Fold.
Of course, none of this information is final, other than the phone will have 5G capabilities. It would definitely be a shame if such a foldable flip phone would be limited to only two or so countries but that could also lessen the adverse impact of a failed product.