Samsung UTG on the Galaxy Z Flip will be available for other manufacturers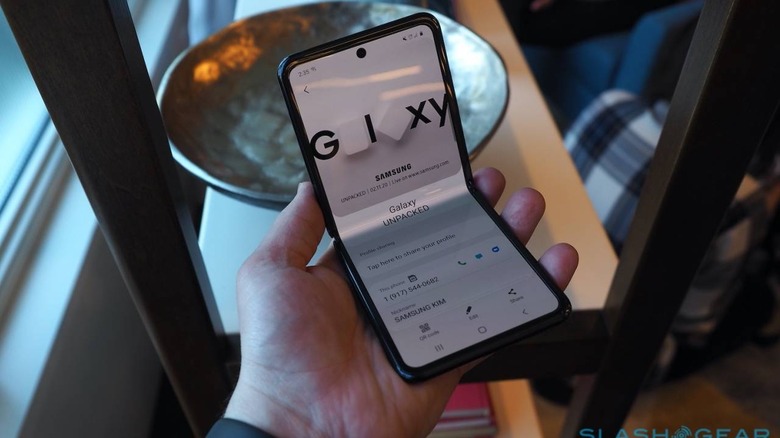 When Samsung launches a new smartphone, it sometimes does more than commercialize a new mobile device. Sometimes, that smartphone also becomes the showcase and demonstration of a new technology that the company will eventually commercialize and sell to other customers. That is the case for many of its displays, from curved edge screens to its different kinds of Infinity cutouts. Now it's also doing the same for the Galaxy Z Flip's foldable display cover window which it will be selling to other OEMs as Samsung UTG.
It's perhaps a bit too easy to equate this UTG, short for ultra-thin glass, as the Galaxy Z Flip's flexible screen. To be clear, however, Samsung's second foldable phone has actually three layers to it. There's the flexible AMOLED screen itself and the plastic protective layer on top that, as we have seen, can get easily scratched. And then there's the ultra-thin glass cover window in the middle that Samsung has been rambling about.
That glass is the main difference the Galaxy Z Flip has over the Galaxy Fold which used a Polyimide or PI material instead. Glass adds a bit of durability and protection to the flexible panel but, in this case, is still flexible enough to be used in a foldable display, as proven by the Galaxy Z Flip, of course. That's why Samsung has chosen the cheesy marketing slogan "Tough, yet Tender."

It's not as strong as typical glass, of course, but those don't bend and fold either. Samsung is naturally proud of its achievement, enough to mass-produce the material to sell to other companies who may be considering making foldable displays of their own.
Samsung expects that its Samsung UTG will be used in other foldable products when demand arises. If demand arises, of course, which is still questionable at this point. It also plans on trademarking and commercializing its PI cover window but, considering the reputation of the Galaxy Fold's screen, it might not be as convincing as the Samsung UTG.