Samsung unveils tiny M.2 NVMs PCIe SSD for PCs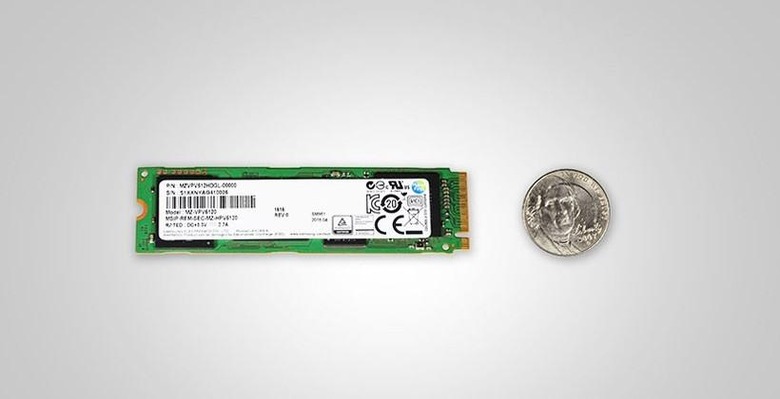 Samsung has announced that it has started mass production of a new form factor for storage drives for the PC market. The new drive is the industry's first NVMe PCIe SSD using a M.2 form factor. The SSDs are meant for use in PCs and workstations. Samsung also says that it is the first in the industry to begin shipping NVMe SSDs for the PC market.
One of the key features for this small SSD is very low power use in standby mode. Another key feature is the small size of the NVMs SSD. Together those features will allow PC makers to build machines that are thinner and more compact and machines that get better battery life thanks to lower battery usage.
Samsung's SSD is called the SM951-NVMe and it is offered in capacities of 512GB, 256GB, and 128GB. The drive has performance of up to 2,260MB/s read and up to 1,600 MB/s write. The performance of the drives is thanks to the use of four 8Gbps lanes on the PCIe Gen 3.0x4 slot inside a computer system.
The SSD can process 300,000 IOPS making it much faster than competing products on the market. While offering a decent amount of storage space and impressive performance, the drive remains very small with a thickness that doesn't exceed 4mm and a weight of 7 grams. The drive consumes under 2mW of power during standby operations.